Print Out Journeys Application
Download a printable Journeys employment form.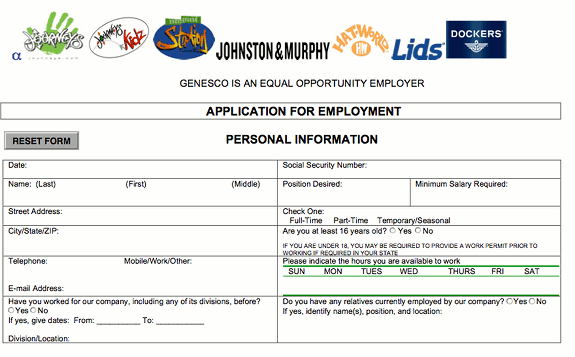 Benefits of Printing out the Journeys Application
Young-adult footwear and apparel retailer Journeys offers excellent entry-level job opportunities for high-school and college kids looking for part-time work. Job openings as sales representatives require good customer service skills and positive attitudes. Printing out a job application and handing the form in to a hiring manager in-person allows an applicant to make good first impressions and show off friendly personalities.
Printing out an application to complete at home also allows candidates to take more time filling out important details. Applicants making mistakes along the way may print out new forms and start again instead of facing the embarrassing situation of asking a manager for another copy. Completing application forms at home allows candidates to gather all necessary information and documents like social security numbers and reference contact info, as well.
How to Fill out the Journeys PDF Application
Fill out all information using black or blue ink, or take advantage of the form-fillable PDF and type in the information before printing the document.
"Personal Information"
The first section of the application asks for personal information such as name, address, phone number, email, and Social Security number. Candidates must also indicate desired employment status and available work hours.
"Work Experience"
In the Work Experience section of the application, individuals must provide the details of previous employers beginning with the most recent. Desired information includes contact info for the employer, position held, salary, and dates of employment. Candidates should also indicate if Journeys may contact previous employers or not. Individuals with no prior work experience may leave the section blank.
"References"
Applicants may list the contact information for two professional references. Refrain from listing relatives or school friends. Appropriate people to use as references include past supervisors, coworkers, teachers, clients, or other business associates.
"Education and Training"
Fill out the requested education and training information by providing details on the location of the schools or programs attended, years completed, and the types of courses or trainings undertaken at each institution.
"Referral Source"
The Referral Source section asks candidates to indicate the sources of hearing about job opportunities at Journeys, such as through a newspaper ad, store Help Wanted sign, an employee referral, or another source.
"Additional Personal Inquiries"
Candidates with criminal histories must specify prior felony convictions or misdemeanors involving theft. Individuals with no relevant criminal convictions should leave the section blank and move on. Answer honestly.
"Permission to Work"
Individuals must mark Yes or No to indicate legal authorization to work in the United States.
"Applicant Statement"
The final section requires applicants to read and agree to a short statement pledging the information presented on the application proves true and correct. To finalize the document, sign and date at the bottom.