Print Out Knott's Berry Farm Application
Download a printable Knott's Berry Farm employment form.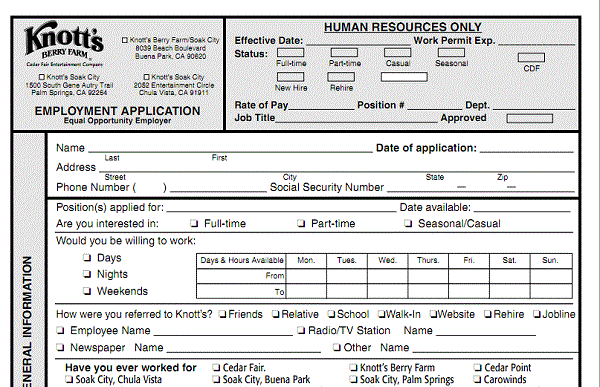 Benefits of Printing the Knott's Berry Farm Application
Knott's Berry Farm amusement park is a fun, exciting place to work. People interested in jobs with Knott's should think about turning in print forms instead of going through the application process online. Handing in applications face-to-face lets job hopefuls see the park and meet other employees. This gives them a better idea of what work might be like on a normal day.
In-person applicants also get to meet managers. This is a great time to ask questions about job duties or the hiring process. Remember to fill out the entire application before arriving at the park to make the most prepared and professional impression.
Completing PDF Applications for Knott's Berry Farm
Knott's Berry Farm applications are short and direct, with only two pages of questions. Be sure to read each section carefully to catch all important information. Using blue or black ink and writing clearly is also a good idea when filling out any professional form.
General Information & Military Service
The form's first section asks for basic facts about applicants like name, date, contact details, and Social Security number. Job seekers should write the position they want, the earliest day they can start, and whether they want part-time, full-time, or seasonal work. Next, fill in the schedule chart, writing the earliest times you could begin to the latest you could work. Be sure to check the box for days, nights, or weekends.
Applicants should then check the box beside any amusements parks where they have worked before. Give the position titles and dates worked. If job hopefuls know any Knott's employees who could give good references, check the Yes box and write their names on the line. Afterwards, answer the questions about age and legal right to work. Veterans can use the U.S. Military Service section to share their service branches, duties, and any special training they gained.
Education
At the bottom of the first page, applicants should circle the highest grades or top degrees they finished in high school, college, and/or graduate school. Next, write each school's name and address. Job hopefuls should also share their majors, whether they graduated, and their degree types. Lastly, list any leadership positions, awards, or honors. Focus on the ones that show off qualities related to the job like teamwork, communication skills, and good character.
Work Experience
Starting with the most recent job, enter the dates employed. Next, fill out the blanks with each company's name, contact details, supervisor, and pay. Share reasons for leaving and give permission to contact the old jobs by checking Yes where appropriate. Finish up by listing other skills. If applicants have any periods without work in the last 10 years, there is also space to explain why.
Personal Data & Certification
The next three questions deal with legal history. If applicants have ever been convicted of crimes or are registered sex offenders they should check the Yes boxes. Next, share where and when convictions happened and their legal results. Knott's Berry Farm promises to consider each case by itself and won't throw out applications just because of past legal issues.
Finally, read the Certification section. It gives details about company rules, background checks, and medical/physical exams. By signing and dating the form at the bottom, job seekers are saying that they have read and agreed to all of these statements.