Print Out Kroger Application
Download a printable Kroger employment form.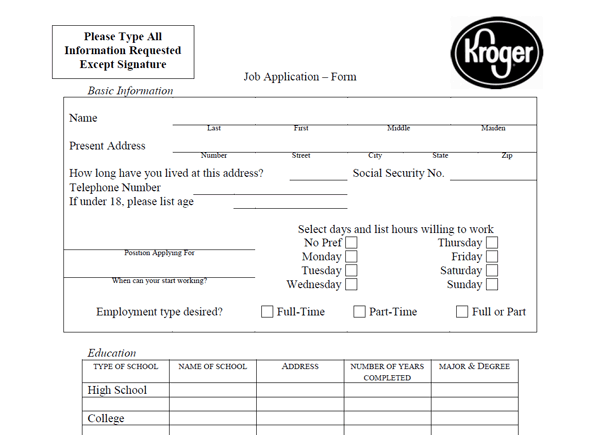 What Should I Do With This Form?
These directions can help you fill out the application. Once completed, take it to the desired location. To learn about applying online, check here. Otherwise, start looking for jobs nearby.
Why Apply at Kroger?
As one of the largest grocers in the country, Kroger regularly hires job candidates to take on entry-level roles. Full-time and part-time work is available. Positions to apply for range from careers in management or pharmacy to jobs like deli attendant or cashier.
Completing the Kroger Application
In order to get started in a career with Kroger, download and print the online application form. Stores may take anywhere from a few days to several weeks before contacting an applicant.
Personal Information
The first portion of the application form requests basic info such as:
Personal Facts – name, address, social security number, age, and telephone number
Work Availability – desired position, starting date, and preferred schedule
Education History – specifics for high school, college, and other training
Fill this in precisely and clearly. That way the employer will not have any issues when reviewing the responses.
Background Information
The next section is where to confirm driving status. Applicants must disclose any accidents or tickets incurred. Also, list criminal convictions here, along with accurate details.
It is best to be honest in these cases. Kroger could decide to do a complete background check before hiring. If there is anything false, it would likely disqualify a candidate.
Work History
This portion requires data for two previous jobs. Hopefuls will provide the following for each:
Name of business and supervisor
Full address
Phone number
Dates employed
Reasons for leaving
Duties for position
Job seekers can also explain any skills used or achievements earned in past roles. Doing so can give Kroger some examples of work ethic that might be a benefit during the hiring process.
References
In the next part, list two non-relatives and their contact information. This includes a current place of employment and title. These people should be aware that Kroger may try to reach them to discuss the application.
Final Agreement
Read the notification at the end of the form thoroughly. To finish the application, job hopefuls must sign to acknowledge that the answers are accurate and the company has the right to investigate all facts. Deliver the finished paperwork by hand to a local Kroger.