Print Out Mi Pueblo Food Center Application
Download a printable Mi Pueblo Food Center employment form.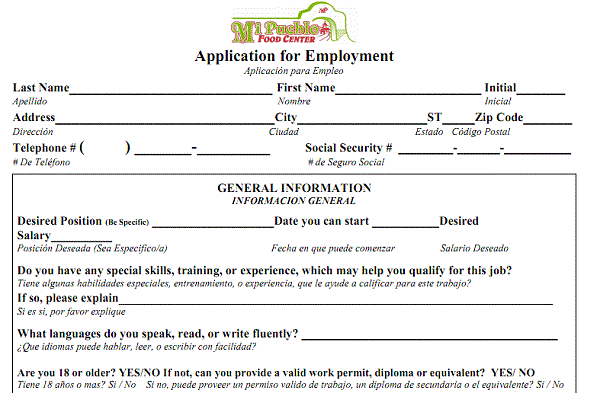 Benefits of Printing out the Mi Pueblo Food Center Application
Entry-level positions are available for full-time or part-time employees at Mi Pueblo Food Center. Teamwork and leadership are skills sought by hiring managers. There is no need for previous experience as the grocer provides full training to their employees. Handing in a hard copy of the printable application allows job seekers to make a strong first impression.
How to Fill out the Mi Pueblo Food Center PDF Application
The application requires candidates to answer various questions related to personal information, employment history, and education background. The form is written in both English and Spanish. Please use blue or black ink and write legibly.
General Information
In this section, job seekers are asked to choose desired positions as well as if part-time or full time hours are needed. The form also asks candidates to list any qualifying skills and whether or not they have reliable transportation. The hiring managers also check this section for eligible work status and any past convictions.
Work Experience
Applicants must provide accurate information for up to three previous employers. Include contact information, dates employed, duties and pay, and reasons for leaving. For workers with no previous job experience, list volunteer work instead.
Education
This section requires job seekers to check all boxes that apply to them. At the end of the Education portion of the printable application, there is space to explain long-term and/or immediate career goals.
Certification and Acknowledgments
Finally, job seekers must sign and date applications, stating that the information provided is true and accurate.