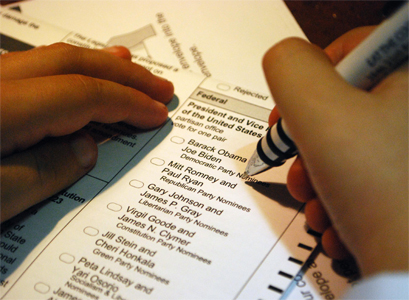 Poll Overview
The most recent poll conducted by the Job-Applications.com crew highlighted the intentions of voters in the upcoming election. We looked at party affiliation, projected voting decisions, voter registration, and whether or not respondents held jobs. We also asked how many unemployed persons were actively looking for work. Nearly 1,900 people participated in the survey, which ran from 10/20/14 to 10/22/14.
Question 1: Are You Employed or Unemployed?
When asked about employment status, more than two-thirds (1,239) of respondents indicated holding no job. The other 615 poll takers currently work. While a majority of people who visit Job-Applications.com generally do not work and are in need of employment, the data collected by our poll offers perspective on the questions that followed in our poll series.

Question 2: If Unemployed, How Long Have You Been Looking for a Job?
For the poll question targeted at unemployed persons regarding time spent looking for work, we divided choices into three categories: less than three months, three to six months, and over six months. The question received 1,500 responses, with a majority of people indicating job searches lasting three months or less (48.5%). Job searches lasting three to six months yielded 21.7% of responses, while nearly a third (29.8%) of unemployed respondents reported looking for work for over six months. According to the survey, people either find work before the six-month plateau or well after searching for half a year. While the overall unemployment rate for the United States sat at 5.9% for the month of September 2014, it appears jobs still remain a hot commodity, with thousands still searching three or more months after losing previous work or beginning professional careers.
Question 3: Are You Registered to Vote?
More than 1,700 people responded to the poll question regarding voter registration, which showed 61.5% of respondents as fully registered to vote and 38.5% as unregistered. The data closely mirrors the percentage of registered voters among Americans eligible to vote in the United States (roughly 70%). The data also suggests the average unemployed person is more than likely an eligible voter.
Question 4: Do You Plan to Vote Republican or Democrat?
The final question in our survey showcased party affiliation and intent to vote. While planning on getting out to vote, participants in our poll displayed Democratic voting intentions at 55.2% and Republican intentions at 44.8%. The question received just under 1,500 responses and shows a potential lean toward Democratic candidates and policies among voting workers and unemployed job hunters.
Survey Results
Reviewing the data, our survey results show a strong correlation between affiliated political party and projected voting patterns in the upcoming general election. Two out of every three unemployed individuals is currently registered to vote. Our survey also shows that 80% of respondents intend on voting, which ranks well above the national average for voter turnout in general elections.