Print Out Miller's Ale House Application
Download a printable Miller's Ale House employment form.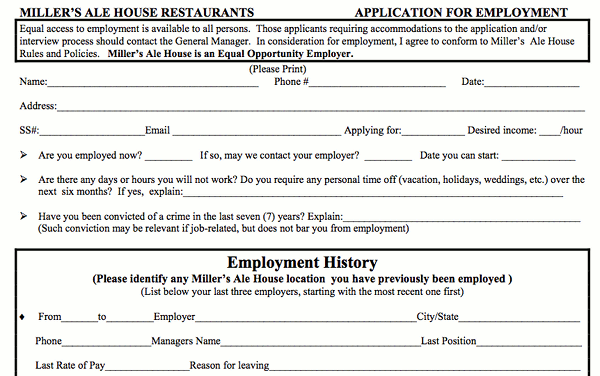 Benefits of Printing out the Miller's Ale House Application
Restaurant jobs like the kind for hire at Miller's Ale House locations require constant interaction with fellow team members and patrons alike. Applicants looking to bolster odds of gaining employment should consider printing out and filling in hiring information manually. PDF versions of the application allow workers to engage managers in face-to-face meetings onsite. During the meetings, candidates may showcase interpersonal skills, friendly personalities, and energetic attitudes typical of food and customer service jobs.
How to Fill out the Miller's Ale House PDF Application
Divided into three separate sections with Employment History the only clearly defined portion of the application, Miller's Ale House hiring forms ask for basic contact information, criminal histories (if applicable), current academic statuses, and emergency contacts. Job seekers must print on the documents. Use blue or black ink and whiteout errors entirely, if necessary. Workers may also reprint the forms and start over in the event of mistakes made.
Contact Details
Candidate names, phone numbers, and addresses should appear on the first lines. Workers also list the date at the head of the single-page document. Below the first few lines sit prompts for Social Security numbers, email addresses, positions desired, and expected pay rates. Individuals move on to indicate current employment statuses, grant or deny the restaurant permission to contact current employers, and offer first available start dates. The section concludes with questions about days of the week candidates refuse to work, holidays or other special occasions workers need off upfront upon hire, and convictions of crimes over the last seven years. Applicants with criminal backgrounds must provide detailed information for each offense.
"Employment History"
The PDF hiring form delves into candidate work history, as well. Miller's Ale House asks applicants to start with most recent or current positions first and work backward. List the dates employed, company names and locations (including cities and states), phone numbers, past managers, positions held, salary options, and reasons for leaving. Enter in up to three current or former jobs.
Closing and Signature
Miller's Ale house printable applications close with three final questions, legal statements, and lines for signatures and the date. The questions appearing in the closing section of the hiring form include inquiries into special trainings or skills relevant to the position desired, school schedules if currently enrolled, and an emergency contact. Candidates then read through the terms and conditions, which appear in paragraph form and outline policies on information gathered on the documents, probationary hiring, and the use of background checks to glean information about prospective associates. Signing and dating the form acts as a formal agreement to the terms.