Print Out Nando's Application
Download a printable Nando's employment form.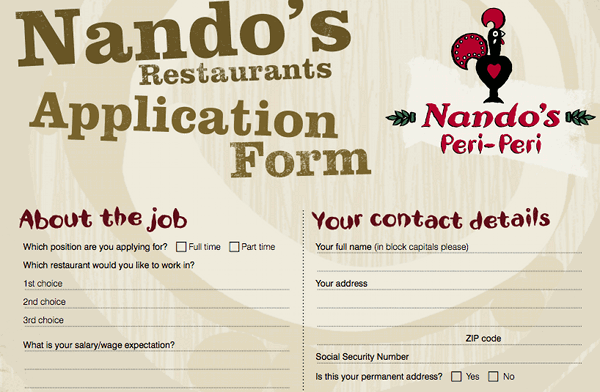 Benefits of Using Nando's PDF Application
When applying to Nando's, consider printing and filling out their PDF applications to turn into restaurant locations. Handing in application forms allow candidates to interact face-to-face with managers. Applicants can display their skills and eagerness to work, which makes them stand out in the hiring process.
Completing Nando's Printable Job Application
The entire application is two pages long. Candidates should prepare basic contact information and past work records before completing forms. Read over each section carefully and answer all parts honestly.
About the Job
To begin, candidates must state the positions they are applying for, as well as noting location preferences and expected salaries. Next, applicants should list two reasons why they want to work at the restaurant. Lastly, job hopefuls are asked about any past employment with the company and how they heard about Nando's.
Basic Information
In this section, fill in names, addresses, social security numbers, phone numbers, and email addresses where spaces are given. The following questions concern preferred schedules, legal rights to work, and possible convictions. There is also space for those applying for management titles to explain their interests in higher roles, as well as an area for all applicants to describe their training expectations for the job.
Experience & Qualifications
Listing up to three recent jobs, provide answers to each prompt about past work. This section asks about positions held, pay rates, and which of the three jobs was liked best. Then, state all attended schools and include qualifications gained. As noted on the applications, resumes can be attached too. Candidates should also provide their availability for potential interviews.
References & Signature
The final portion of the applications ask for candidates to state emergency contact information and two references. These references are kept on record in the event that applicants are interviewed and hired. Lastly, sign and date to verify that all information provided is true and correct.