Print Out New York and Company Application
Download a printable New York and Company employment form.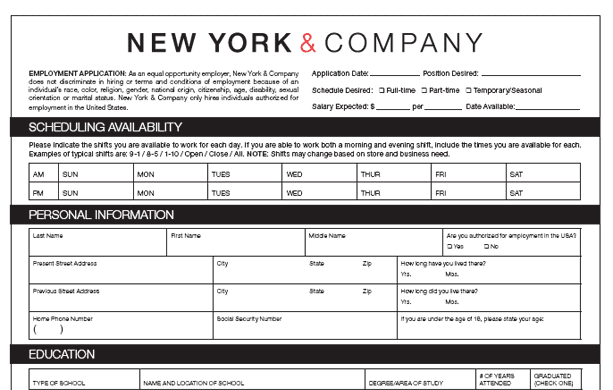 Benefits of Printing out the New York & Company Application
Job seekers looking to enter the world of fashion retail find excellent entry-level employment opportunities with upscale clothing retailer New York & Company. The clothing company hires associates with professional attitudes and excellent customer service skills for part-time and full time roles. In order to make good first impressions, prospective employees should print out downloadable job applications and hand the forms in to store managers.
By printing out application forms, candidates may directly showcase friendly personalities and professional attitudes, which prove essential to customer service jobs at New York & Company. Handing in application forms personally also allows store managers to put faces to the names on the forms and increases the likelihood of getting calls for interview.
How to Fill out the New York & Company PDF Application
Print out the two-page job application and use pen (blue or black ink) to complete the form. To make the process go by faster, gather information, such as Social Security numbers, the addresses and phone numbers of previous employers, and emergency contact information, before sitting down to begin. Review the document and make sure all information proves true before turning the form in.
"Scheduling Availability"
In the Scheduling Availability section, indicate available work shifts by writing preferred times in the chart provided. Keep in mind retail stores generally prefer to hire workers with open availability throughout the week.
"Personal Information"
In addition to basic info such as names and phone numbers, the Personal Information section also requires current and former addresses as well as length of time spent living at each address. Applicants must also verify legal right to work in the United States and indicate age if under 18 years old.
"Education"
Fill in the name and location of high schools, colleges, or other training programs attended, indicate fields of study, and mark number of years attended.
"Employment History"
The Employment History section requires applicants to give details on previous places of employment or account for periods of unemployment. Individuals with less than three prior employers should write down the contact information of professional references. Candidates must also explain any previous terminations.
"Academic and Professional Activities and Achievements"
List achievements, awards, publications, or other accomplishments earned in professional or academic settings. Give specific details.
"Special Skills"
Under the Special Skills section, applicants should list any relevant skills and abilities, such as customer service skills, computer proficiencies, etc.
"Miscellaneous"
Candidates must indicate any previous legal names and prior bouts of employment with any corporations associated with New York & Company. List any friends or family members employed by the company and disclose any felony convictions. A final miscellaneous question asks applicants to indicate any foreseeable reasons for not meeting the company attendance policy.
"Emergency Contact"
Give the contact information for a designated emergency contact including name, address, place of employment, relationship to, and phone number.
"Please Read This Statement Carefully"
Read through the brief legal statement assuring the accuracy of information contained in the document, then review the application form once more before signing and dating at the bottom.