Print Out Old Country Buffet Application
Download a printable Old Country Buffet employment form.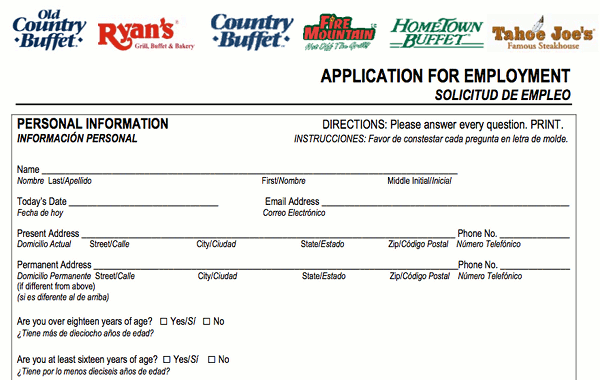 Benefits of Printing out the Old Country Buffet Application
A variety of breakfast, lunch, and dinner options remain available at local Old Country Buffet outlets. The restaurant chain hires aspirants interested in working with the public. Individuals may download applications and print copies out to apply in person. Applying in person, rather than online, provides a more personalized experience. Prospective team members should locate branches nearby and appear during slower restaurant hours. Avoid breakfast, lunch, and dinner rushes to ensure a meeting with hiring managers. Job seekers should arrive with friendly demeanors and offer memorable greetings to potential coworkers and hiring leaders.
Polished application forms demonstrate well-organized and skilled candidates. Information should neatly fit in the provided blanks. If additional space proves necessary, applicants may attach separate pieces of paper to the forms. Printed, legible handwriting makes submissions more attractive to recruiters. All facts must remain accurate with no major omissions. False statements result in immediate termination or disqualification for hire. When arriving in person, dress appropriately and demonstrate effective communication skills, since most openings require interacting with customers routinely.
How to Fill out the Old Country Buffet PDF Application
The four-page application form exists in both English and Spanish. A list of logos showcasing sister businesses, including Ryan's Grill, Buffet & Bakery, Fire Mountain, Hometown Buffet, and Tahoe Joe's Famous Steakhouse, sets along the tops of the documents. Each page contains easy-to-understand questions in titled categories. Job hunters should only write in pen with standard ink colors like blue or black.
"Personal Information"
Candidates begin with basic contact details, along with miscellaneous personal information. Individuals fill in the first line with last and first names, as well as middle initials. The next few lines request the date, an email address, present address, permanent address, and phone numbers. A series of Yes or No questions inquire into age, if over 18 or at least 16 years old, if able to acquire work permits, if convicted of a felony (if yes, please explain why), and if legally allowed to work in the United States. Forms ask for the sources in locating opportunities and if contenders ever worked for Old Country Buffet in the past (if yes, where, when, and the supervisor).
"Placement Information"
The section touches on the availability of potential employees. Applicants list positions of interest and the types of hours requested (full-time, part-time, or temporary). An abbreviated list of the days of the week allows job seekers the chance to circle daily availability. Underneath, contenders list the hours accessible Monday through Friday, Saturday, and Sunday, when able to start, and if any outside activities stop the candidate from working.
"Education & Training"
Moving on, the third portion of the PDF provides charts for high school, business schools, colleges, and other. Job seekers take time to carefully fill in the names and locations, number of years completed, and average grades for each of the schools attended. Potential workers should leave no applicable rows blank. Under charts, three questions delve into scholastic honors, offices held, and activities, if planning to pursue further studies, and special training or experience related to positions.
"Employment Record"
A paragraph of directions accompanies the important Employment Record category. Prospective staff must list information carefully and begin with the latest job titles held. Any out-of-work dates should list in charts with explanations of gaps. If no employment experience exists, aspirants should list three professional references. Begin by filling in the names and addresses of former employers. Aspirants then provide the names of supervisors, company phone numbers, a list of responsibilities and job titles held, start and end dates, salary options, and the reasons for leaving or discharge. Underneath the charts, indicate whether recruiters may contact present supervisors. If no, aspirants must provide two references for contact by including names and telephone numbers.
"Statement"
An entire page remains dedicated to the closing statement for employment at Old Country Buffet. The message to read the statement before signing appears in bold letters. Information provided on the documents must stand true and complete. Aspirants must also submit to drug analysis tests and various background investigations. Maryland and Massachusetts residents possess special exceptions and should carefully read through the state requirements. After reading and agreeing to the information provided, job hunters must sign and date application forms.