Print Out Old Navy Application
Download a printable Old Navy employment form.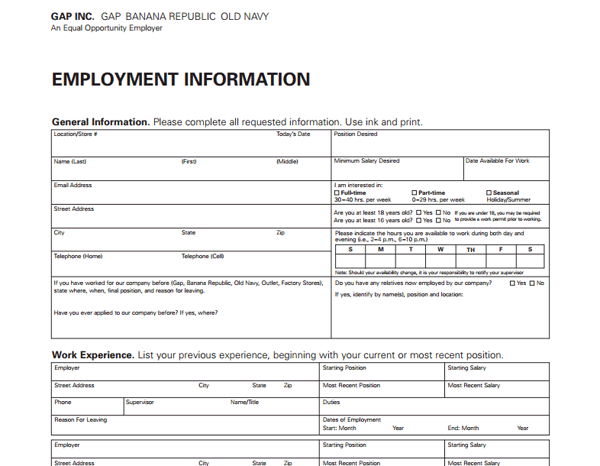 What Should I Do With This Form?
Job seekers who download and print this Old Navy application create the chance to connect with the managers at a local store. Not only does turning in a paper form allow candidates to display their fashion sense, they get a better feel for the work environment.
Of course, virtual applications have benefits as well. People who want to browse Old Navy job openings or apply online can find those resources here too.
Entry-Level Old Navy Jobs
The company regularly hires friendly new employees. Cashier and sales jobs let workers interact with customers. Those who choose may stock shelves or clean. Using this guide, hopefuls can fill out Old Navy applications to obtain the work that suits them.
General Information
In addition to the standards, like name, phone number, and street address, this section calls for info on the candidate's desired job. Fill in a chart to confirm availability, expected salary package, and age. Check a box to select a work schedule: full-time, part-time, or seasonal.
Work Experience
Starting with the most current employer, provide the following:
Location of the company
Name and phone for a direct supervisor
Beginning and ending pay rates
Start and end dates
Reason for leaving
A brief list of job duties
References
While hiring managers prefer these to be coworkers or bosses, a reference can be anyone not related to the applicant. Write the contact information clearly, and describe the nature of the relationship.
Education & Training
The application asks for grade school, high school, and college details. There is also an opportunity to highlight foreign language skills and specialized training.
Additional Employment History Inquiries
Candidates should answer questions about past firings or convictions honestly. Offer a simple explanation if applicable.
Permission to Work & Referral Source
Applicants use these sections to verify that they can work in the U.S. and note how they heard of the available Old Navy job. Respond to the prompts regarding the specifics of each.
Additional Questions
The short answer part of the Old Navy application is a place to show off writing skills. Give quick, yet thoughtful replies. Think of it as a preview of the interview process.
Wrapping Up
Once every portion is complete, sign and date the document. Be sure to read over the application form for mistakes. Finally, take it to a nearby Old Navy and ask to speak to a hiring manager.