Print Out Olive Garden Application
Download a printable Olive Garden employment form.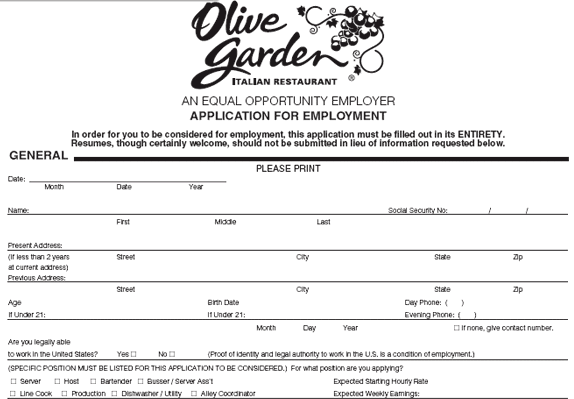 Benefits of Printing out the Olive Garden Application
Applying in person is a great way to increase success when job hunting. Olive Garden is always looking for highly motivated people with strong social skills. Submitting applications face-to-face allows job seekers to make good first impressions. Be sure to dress business casual and avoid peak business hours such as lunch and dinner time.
How to Fill out the Olive Garden PDF Application
The Olive Garden application form is relatively short and simple. Most applicants should be able to finish within 20 minutes. Job seekers must answer general questions about availably, education, and work experiences. Be sure to write legibly and use a black or blue ink pen.
General Information
In this portion of the application, job seekers must provide positions and salary desired, starting dates, previous employment in any Darden Restaurants, and any felony convictions.
Work Schedule
Candidates need to fill in an availability table for each day they are able to work. Shifts begin as early as 7 a.m. and may end as late as 2 a.m. Job seekers must indicate if they can work weekends, holidays, split shifts, and cover in emergency situations.
Education
Here potential employees provide the names and locations of any high school, college, or other institute attended. Hiring managers look for years completed and grade averages as indications of work ethic and ability to complete tasks.
Voluntary and Military Experience
Candidates have the opportunity to showcase skills they have acquired volunteering or during military services.
Business Experience
All potential candidates must list three previous employers, starting with the most recent. Information required includes employers' locations, dates employed, supervisors names' and contact information, positions held, and reasons for leaving.
Certification
Finally, job seekers must sign and date applications, stating that they are true and accurate.