Print Out Outback Steakhouse Application
Download a printable Outback Steakhouse employment form.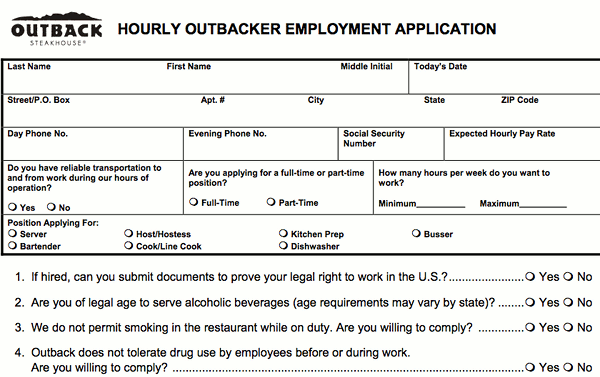 Benefits of Printing out the Outback Steakhouse Application
Aspiring Outback hourly employees enjoy the unique opportunity to download, print out, and fill in hiring requests manually. The PDF application offers ample time to complete the set of documents, which reduces odds of making errors. Workers may also reprint the forms to correct mistakes, as needed. Hiring personnel often view individuals arriving onsite to turn in completed forms as professional, prepared, and serious about gaining employment. Taking up valuable time filling in the documents in house may negatively affect managerial hiring decisions.
How to Fill out the Outback Steakhouse PDF Application
Job seekers encounter lengthy questionnaires on Outback hiring forms. The forms require extra attention and around 40 minutes to an hour to complete. Applicants should read instructions carefully to avoid placing information in the wrong places. Only the first three pages pertain to prospective associates. The final page appears for the sake of managers during interviews.
"Hourly Outbacker Employment Application"
Under the general header listed at the top of the document sits a chart with spaces for contact information, Social Security numbers, salary expectations, hour preferences, employment status, and specific positions desired. Workers must also indicate possession of reliable transportation and the date.
"Questionnaire"
Outback hourly job hopefuls move on to an employment questionnaire covering a variety of tops. In total, the form asks 25 questions. Topics range from holiday shift preferences, specific hours unavailable each day of the week, felony convictions, past employment with the chain, long-term goals, and ability to perform daily tasks upon hire. Other subjects include candidate start dates, specialized training, and reasons for applying with the Aussie-themed restaurant.
"Employment History"
The next section instructs workers to leave specific details about current and former places of employment. Listing the information under the corresponding header, applicants offer company names, addresses, and phone numbers, lengths of tenures, specific titles and summations of duties, past pay rates, average hours per week, and reasons for leaving. Job seekers must indicate permission for Outback to contact the former and/or current employers. Two small lines below the chart for employment information call for the name and phone number of an emergency contact. Applicants sign and date the forms in the appropriate places to finalize and certify the documents.