Apply for Pharmacy Positions & Jobs, Employment Applications Online
Apply online for a pharmacy career today and you could begin earning the competitive salary and job benefits you desire.
Pharmacy Jobs
The typical allotment of pharmacy jobs available to workers include pharmacist and pharmacy technician at most locations. Pharmacy technicians work behind in-store dispensary counters. Duties include patron interaction, answering phone calls, writing down customer information for prescriptions, and generally assisting licensed pharmacists. Technicians also sort and catalog medicines for easy and efficient access. The primary positions available at pharmacies include licensed pharmacist jobs. Pharmacists decipher and fill prescriptions written by doctors and brought in by patients. The task usually includes consulting formal training received to gain licensure as well as referring to medical dictionaries and drug identification manuals. Both pharmacists and pharmacy technicians explain possible drug interactions with customers and allergy concerns in addition to directions for usage. Cashier and stock positions may prove available for entry-level job seekers, as most pharmacies offer retail services, as well.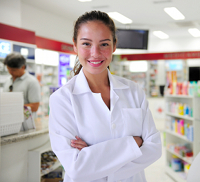 Local pharmacies now hiring
Job Requirements
Job hopefuls possessing any medically oriented experience, customer service training, and attention to detail gain greater consideration for employment for work in pharmacies, regardless of capacity. Most pharmacies prefer employees with open availability, as locations often hold late hours of operation. A high school diploma or the equivalent typically constitutes the educational requirement for pharmacy tech jobs, while pharmacists need college degrees, extensive training, and previous work history prior to employment, in most cases. Training by supervising pharmacists occurs on the job to assist new-hire pharmacists or pharmacy technicians. Employers normally only hire applicants 18 years and older.
Salary and Benefits
Full-time employees at most large drugstore corporations usually receive work benefits such as medical, dental, and vision coverage, paid time off, and 401(k) retirement plans. Discounts on products and services provided by the retail chains housing pharmacies and employing the workers also regularly exist. The median pay for pharmacy technicians stands at $28,030, as of 2012. Annual salary options for pharmacists sit well above the national average, with persons in the position regularly taking in excess of $100,000 with proper licensures and experience.
Pharmacy Industry Stats and Projections
Currently over 355,000 pharmacy technician jobs exist in the United States. Higher disease rates, advances in medicine, and aging populations lead to more prescriptions and greater demand for pharmacy workers. The U.S. Bureau of Labor Statistics projects a growth rate of 20% for the industry. The same holds true for pharmacist jobs, which include more than 286,000 in the field as of January 2014. Analysts project a 14% increase in work opportunities available in the field over the next 10 years.
Pharmacy Job Descriptions
Pharmacy Technician – A pharmacy technician retains responsibility for assisting licensed pharmacists with the dispensing of prescription medications to both health professionals and private consumers. Most employees in such a role typically need to meet only minimum hiring requirements, such as standing at least 18 years of age and in possession of a high school diploma. In certain states, the regulation of pharmacy technicians may require further post-secondary education or passing of specific examinations. Most training occurs on the job though additional trainings and certifications may prove necessary after hire. The Bureau of Labor Statistics shows a positive outlook over the next ten years, with an additional 71,000 jobs expected. Pharmacy technicians typically earn around $14.00 an hour.
Pharmacist – Pharmacists allot proper prescription medications in accordance with doctor orders. Additionally, a pharmacist may offer proficiency of knowledge in the safe use of such prescriptions, advise how to lead healthier lifestyles, guide health and wellness examinations, and provide certain immunizations. Pharmacists retain career options, as pharmacies may remain available in retail locations such as grocery stores and drug stores and in both hospitals and clinics. A pharmacist may also find ready employment in the military, performing commercial research, and working for the pharmaceutical companies directly. A four-year professional degree, most commonly the Doctor of Pharmacy degree, remains crucial to attaining a position as a pharmacist, as does proper licensing. Pharmacists may earn up to $120,000 a year, depending on differing factors, including area of work, location, and tenure.
Learn about becoming a pharmacist.