Print Out Pizza Inn Application
Download a printable Pizza Inn employment form.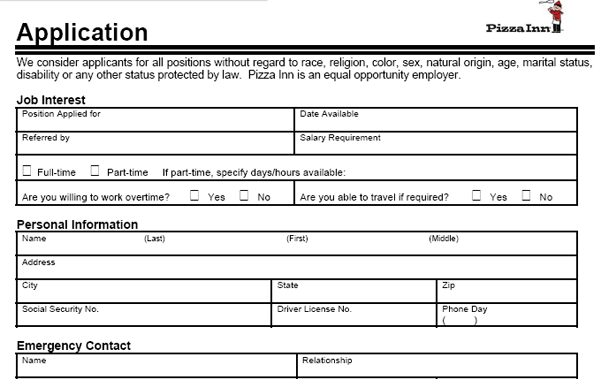 Benefits of Printing out the Pizza Inn Application
An American restaurant chain, Pizza Inn offers pan pizza and a variety of side dishes in over 315 locations across roughly 12 countries. The company routinely hires entry-level aspirants to fill customer service roles. To demonstrate top-notch communication skills, job hunters should arrive in person and hand deliver application forms to management. The personable interaction allows individuals to describe relatable experience and showcase exceptional character traits. Candidates should approach managers with friendly smiles, professional demeanors, and dressed to impress.
Recruiters may offer on-the-spot interviews to stand-out applicants. If hiring needs prove urgent and the candidate appears promising, hiring leaders may grant a job offer immediately following interviews. During interviews, contenders should explicitly state past job titles, skill sets, and education. Advisably, individuals should also prepare a list of questions to show interest.
How to Fill out the Pizza Inn PDF Application
The rather standard two-page application form inquires about former employers, schools attended, and personal details. Contenders should answer questions with blue or black ink and correct errors by whiting out mistakes or starting over. The submission takes approximately 30 to 45 minutes to complete. Each blank should receive a correct and truthful answer.
"Job Interest"
Workers begin with a brief statement on equal consideration regardless of race, religion, sex, color, age, marital status, natural origin, and disability. The first category, framed in a mid-weight black border and titled Job Interest delves into the type of work expected. Interested applicants answer with job titles applying for, date first available, persons referred by, salary requirements, hourly status sought (full-time or part-time), if willing to work overtime, and if able to travel.
"Personal Information"
Following the first section, Personal Information screens applicant backgrounds to gather contact details. Job seekers provide last, first, and middle names, addresses, Social Security numbers, driver's license numbers, and daytime phone numbers. Underneath, candidates should provide an emergency contact person by including the name, address, relationship, and phone number of a trusted individual.
"Additional Information"
A list of additional questions appear for the next portion of the application. Such questions include if ever employed with Pizza Inn previously (if so, list location, dates, and position), any known workers (if so, list names), if a United States citizen, if under the age of 18, if ever asked to leave a position (if yes, why), and if ever convicted of a felony (if yes, describe circumstances).
"Education"
A brief chart appears in the category labeled Education. Aspirants carefully fill in details about high schools, colleges, graduate schools, and any other institutions attended. Each applicable school must contain an address, name, course of study, years completed, and diploma or degree acquired.
"Employment History"
The largest portion of the submission titled Employment History requests information about three former employers. Listing the most recent or current job title first, job seekers fill in the answers for the names, phone numbers, addresses, dates, positions, names of supervisors, duties, salary options, and reasons for leaving each post. Attach a separate piece of paper if more space deems necessary. Underneath the chart, potential employees should list experiences and skills which qualify the individual for work at Pizza Inn.
"References"
On the second page, prospective team members should provide a list of references, excluding friends, relatives, and clergy. The individuals listed should represent the applicant positively. Candidates include the name, address, and phone number of each person to complete the category. Contenders may add more references by attaching separate sheets of paper.
"Employment Terms"
At the end of the application process, job seekers locate a short statement about the legality of the submission. Information should remain true and complete. Any false statements may result in disqualification of the form and termination if hired. Furthermore, Pizza Inn stands as an at-will employer and employment may end at any notice. If in agreement, individuals should sign and date the form to make the application official.