Print Out Pizza Ranch Application
Download a printable Pizza Ranch employment form.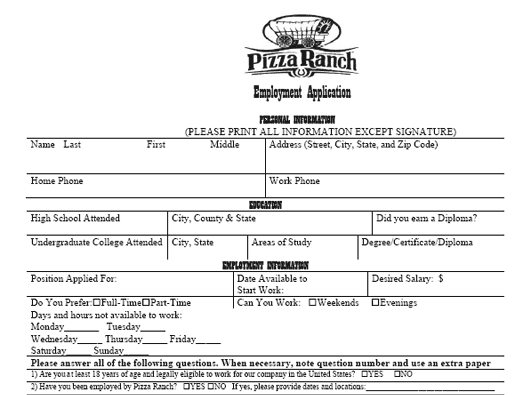 Benefits of Printing out the Pizza Ranch Application
Job hopefuls find completing and submitting PDF versions of hiring forms both leisurely and beneficial. Compared to online submissions or filling out documents onsite, printable applications allow extra time to gather materials, fill in required data fields, and talk with managers or recruitment personnel about gaining employment. Meeting with management personally provides extraordinary advantages, as candidates may showcase personable attitudes and general customer service skills during the sessions. Individuals may easily correct mistakes or errors made on the PDFs with whiteout or by simply reprinting the forms, as well.
How to Fill out the Pizza Ranch PDF Application
Allot around an hour to complete every section of the Pizza Ranch printable PDF application and use blue or black ink to fill in the forms. Some of the focused topics candidates respond to include job-related skills, employment histories, educational backgrounds, shift preferences, and contact information. The document asks workers to print in the data fields, except where the application asks for worker signatures.
"Personal Information"
Applicants begin with personal contact information. Provide last name first, followed by first name and middle name. Then workers input addresses and phone numbers. Spaces appear for both home and work numbers.
"Education"
Information required on the Pizza Ranch printable application also includes high schools and colleges attended. Job seekers place the names and locations of the schools as well as areas of study and indication of diplomas or degrees received in the corresponding data fields.
"Employment Information"
The Employment Information section includes general inquiries into positions desired, available start dates, salary expectations, and ability to work evenings and weekends. Workers must also provide any scheduling limitations for specific days of the week and answer six questions related to employment with the pizza shop. The first question asks applicants to indicate whether 18 or older. Next, workers reveal any past employment with the chain. Then, candidates offer information on layoff statuses, confidentiality agreements, terminations or forced resignations from past jobs, and criminal convictions, if applicable. Workers with criminal backgrounds must provide detailed information on the natures of the crimes, including dates and eventual sanctions.
"Employment History"
Previous experience may aid applicants in gaining employment with the pizza chain. In the Employment History section, job hopefuls enter in details surrounding past jobs beginning with recent or current positions held. Two tables appear for individuals to place company names, addresses, and phone numbers, specific job titles, dates employed, pay rates (both starting and ending), supervisor names, general responsibilities, and reasons for leaving. Candidates may attach separate sheets of paper further detailing employment backgrounds to the PDF documents, as needed.
"Job-Related Skills"
The printable hiring forms move on to ask applicants questions regarding physical stamina, endurance, and communication skills. A series of checkboxes appears with corresponding attributes assigned to each. Workers check off on the attributes best describing personal abilities with Yes or No responses. A second portion of the Job-Related Skills section delves into driving privileges. Only aspiring delivery drivers need answer the second set of questions. The first inquiry asks workers to check Yes or No to possessing valid driving permits. If Yes, provide the license number and issue date. Additional Yes or No prompts ask about convictions of traffic-related offenses in the last five years and past suspensions of driving privileges. A final prompt asks applicants to list every state workers ever held driving permits.
"References"
Two sets of three lines appear for candidates to enter in professional references, as well. Applicants should not provide information for family members or close friends. List referent names, addresses, telephone numbers.
"Applicant's Certification Agreement"
Six major points concerning applicant rights, dissemination of information provided, at-will employment, application activity, and equal opportunity policies appear in the final section of the Pizza Ranch PDF hiring forms. Read through the information carefully to understand the expectations the pizza shop places on prospective employees. Once satisfied, sign and date the application to agree the terms and conditions.