Print Out Primrose Schools Application
Download a printable Primrose Schools employment form.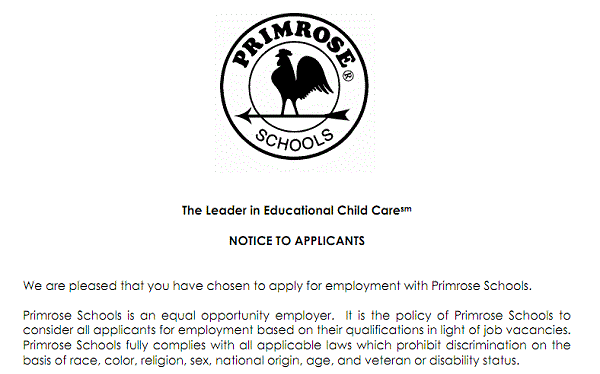 Benefits of Printing out the Primrose Schools Application
The printable Primrose Schools application provides in-depth details on personal and professional attributes often used in the workplace. Writing out the forms longhand allows workers to spend as much time as needed filling in the required information, which regularly results in more polished documents. Job hopefuls may also use the time to reference or locate information necessary to fill in any blank spaces on the hiring requests.
Tutoring represents a highly interactive career field. Individuals serving as tutors or administrative assistants with companies like Primrose need to possess sound communication skills and the ability to relate and work with others in respectable, cooperative, and attentive manners. Using PDF applications as opposed to electronic submissions requires job hopefuls to return the documents to managers onsite at local tutoring centers. One-to-one meetings facilitate excellent opportunities to demonstrate interpersonal communication skills and professional decorum indicative of workers able to maintain appropriate attitudes in academic settings.
How to Fill out the Primrose Schools PDF Application
Applicants may spend anywhere from 20 to 30 minutes completing Primrose Schools PDF applications. The downloadable documents total four pages in length and request basic contact information, details about past jobs and schooling, references, and positions desired. Workers need to fill in each blank to the best of known abilities in order to receive full consideration for employment. Blue or black pen work best on the forms and provide permanence of information. Prospective employees may reprint the documents or whiteout mistakes in the event of errors.
"Personal Information"
Beginning with the date, workers provide names, street addresses, phone numbers, email addresses, Social Security numbers, and driver's license numbers in the first section. Two checkboxes prompt individuals to indicate age over or under 18. The brief section requires no other action.
"Position Desired"
Position Desired represents another short segment of the Primrose Schools PDF. Simply write in the specific position sought after, hours available to work each week, and desired pay rates.
"General Questions"
The General Questions section covers employment, childcare abilities, proof of U.S. citizenship, friends or relatives in the employ of Primrose schools, earliest start dates available, and referral sources for the job vacancies. Many of the questions require checking one of two boxes and then providing additional details based on the answers. Other questions appear in line formats and offer individuals spaces to write out answers in full detail. Read over each question carefully and follow the directions in order to accurately fill in the required information.
"Education"
Primrose hiring personnel screen applicants using academic background information, as well. Aspiring associates must fill in the appropriate blank spaces with details surrounding grammar school, high school, college, and trade/vocational schools. List the names and locations of the institutions as well as years attended, whether graduated (if applicable), and types of degrees or diplomas received. Below the chart reserved for the academic information, workers must write in the subjects of study or areas of concentration at each institution. A line for special skills or training sits at the bottom of the section.
"Former Employers"
Five data fields appear for applicants to list employers dating back over the last ten years. Starting with the most recent or current job held, candidates submit the dates worked, the names, addresses, and phone numbers for each position as well as salary options, specific job titles, and reasons for leaving. Any gaps in employment should receive attention in the spaces or on separate sheets of paper attached to the formal hiring requests. Individuals without real employment histories may list volunteer opportunities.
"References"
Jobs in tutoring often require professional references to back candidates and attest skills and abilities. The printable PDF hiring forms also leave spaces for references. List the names, addresses, occupations, phone numbers, and years acquainted for up to three persons. The individuals should not include friends or family.
"Job Applicant Agreement and Certification"
The last page of the document serves as a legal waiver and offers information regarding applicant rights, dissemination of information appearing on the forms, background checks and drug screening, client confidentiality agreements, and requirements centering on CPR and First Aid certification prior to official hire. Applicants need to read through the ten independent statements to fully understand the ramifications of submitting the documents. Once satisfied, individuals agreeing to the terms and conditions finalize the requests by signing and dating on the appropriate line.