Print Out Quiznos Application
Download a printable Quiznos employment form.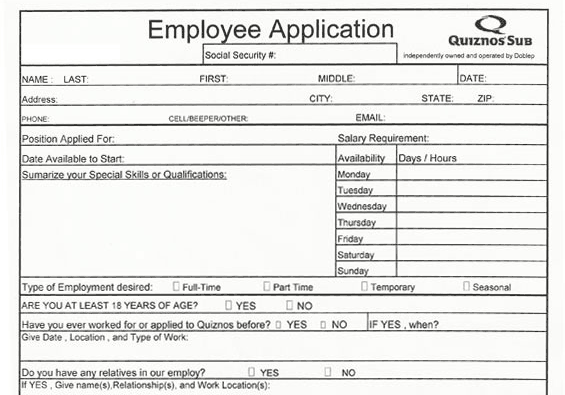 Benefits of Printing out the Quiznos Application
Franchised submarine sandwich shop Quiznos maintains approximately 1,500 domestic locations and nearly 600 international branches. Job hunters often choose to submit paper application forms into nearby shops. After successfully downloading and printing the forms, potential employees carefully scan through the documents and gather the necessary details. Individuals may take as little or as much time as needed. Written clearly and with precise handwriting, submissions showcase a variety of experiences and skillsets to intrigue hiring leaders. Prospective team members should prepare for success by only highlighting valuable and relevant information pertaining to the specific opportunity.
Paper applications demonstrate genuine interest of commitment. Candidates take the time to dress professionally, locate a nearby outlet, and speak directly with hiring managers. Hopefuls must arrive during slower hours to speak with recruiters and bypass entry-level workers. Meeting with a hiring leader becomes a key portion of the application process, since the goal remains to acquire an opportunity with Quiznos. Contenders should maintain interest when speaking with management by asking work-related questions, describing expertise, and showcasing passion for food and customer service.
How to Fill out the Quiznos PDF Application
The relativity common-looking application form contains two pages with each question boxed in. Inquiries appear either as fill in the blank, checkmark, or lengthier paragraphs. Aspirants should only write in black or blue ink and use whiteout for mistakes. Submissions must remain legible or may not receive attention from hiring leaders. On average, the entire forms take between 30 and 45 minutes to complete.
"Personal Information"
At the top of the submission, individuals provide Social Security numbers followed by last, first, and middle names. The form carries on to require the date, a street address, a telephone number, and a valid email. Recruiters seek desired positions and salary requirements in the section, as well.
The next couple of questions in the Personal Information category touch on availability. Prospective staff members mention when available to start and the type of employment sought (full-time, part-time, temporary, or seasonal). Next, a small chart instructs candidates to include the days and hours accessible Monday through Sunday.
A final portion of the category delves into the backgrounds of potential workers. The section begins by asking if applicants stand at least 18 years or old, if ever employed or applied with Quiznos in the past (if so, provide the date, location, and type of work), and if any relatives work for the shop (provide name and relationship, if so). Further questions inquire into legal ability to work in the United States, if ever guilty or convicted of a crime (explain, if so), and driver's license numbers if applicable to the position desired. Aspirants should also provide referral sources.
"References"
The succeeding section entitled References requests prospective workers to include the contact details for two people. Neither former employees of Quiznos nor relatives, the individuals should offer positive recommendations of the potential employee. Job hunters should include the names, phone numbers, and addresses of the references.
"Education"
Organized by high school, college, and other, the Education category allows aspirants to highlight academic institutions attended. Beginning with high school, potential staff include the name, address, number of years completed, if graduated, GPA, and class rank. For the college section, contenders answer similar questions with the only difference a blank reserved for major areas of study. For the last portion, hopefuls should state certifications and technical schools attended.
"Previous Employment"
A lengthier section with the title Previous Employment contains enough space for three former employers. Starting with the most recent or current job title, job seekers provide the details for dates of employment, positions held, company, address, phone number, and supervisor. To further describe the previous job, candidates list responsibilities, starting and ending salary options, reasons for leaving, and if the employer may serve as a reference. Applicants repeat the questions for two more previous positions underneath.
"Statement"
The application comes to an end with a brief statement at the bottom. Job hunters should read through the paragraph explaining the legality of the application and employment with Quiznos. A signature and date acknowledge individuals agree to the terms.