Rental Car Jobs & Employment Applications Online
How would you like driving an assortment of new and interesting cars? Are you the type of person who enjoys meeting diverse and fascinating people? Well, then we have a job for you! Car rental companies are routinely hired by businesses and airports to transport passengers or rented cars to businessmen and vacationers alike.
Industry Outlook: Car rental companies employ nearly 180,000 workers across the United States. In fields like transportation of goods and services and maintenance alone, the car rental industry boasts a combined network of 68,700 associates. Travel rates and business growth greatly influence the number of jobs available in the industry, as vacationers and traveling professionals represent the typical clientele of most car rental companies. Roughly half a dozen major carriers comprise the industry, though thousands of job opportunities open on an annual basis. Projections estimate a growth of more than 3% for the industry by 2019, which sits slightly above the expected growth rate of the national Gross Domestic Product of 2.5%.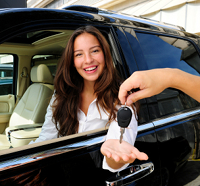 Apply for a rental car job.
Types of Jobs Available: A sales-driven industry, car renting provides excellent opportunities for individuals looking to work directly with the general public. Customer service skills also play a pivotal part in daily operations as well as basic computer use and data organization. Many car rental employees work inside of large, metropolitan air ports. Additional satellite offices generally reside throughout corresponding cities, with few rental agencies based in areas outside of metropolitan statistical areas. Loud, fast-paced job settings featuring demanding daily tasks represent the typical flow of work at car rental companies. Agencies often provide extensive training to new-hire workers and offer employment benefits packages featuring paid time off, 401(k) retirement plans, and healthcare options for qualifying associates.
Mean and Median Salary Options: As reported by the U.S. Bureau of Labor Statistics in May 2013, employees working in the car rental industry earn a median hourly wage of $13.75. Entry-level associates often receive between $9.00 and $10.00 per hour upon hire. The mean wage for the entire industry hovers right around $17.25 an hour, with annual salary options centering on $35,800. Upper-level managers and other corporate professionals may make as much as $80,000 to $100,000, depending on previous experience, tenure, and proven performance on the job.
Desirable Skills: Certain skillsets demonstrated by aspiring associates help laud candidacy for available car rental jobs. Workers who arrive on-time daily, exemplify dedication, and remain patient with customers often stand apart from fellow applicants. The ability to work quickly and in efficient, detailed manners, especially under pressure, also proves beneficial for potential employees. Overall, job seekers with friendly, personable dispositions and motivated work ethics perform well in the eyes of hiring managers and often receive offers of employment.
Car Rental Job Descriptions
Rental Sales Agent – The rental sales agent retains responsibility for interacting with customers interested in renting various vehicles. Agents must prepare all rental and return documents accurately, qualify customers using company rental requirement guidelines, and review all rental parameters with each client. Employees may also prove responsible for general customer service, including answering phones, resolving any issues that may arise, and offering optional products to enhance and meet customer expectations and needs. In most situations, rental sales agents must stand at least 18 years old and possess a high school diploma or GED in order to apply. Minimal sales experience and a valid driver's license with limited moving violations may also prove necessary. Typically, rental sales agents earn minimum hourly wage initially and up to $11.00 per hour with tenure or promotion, depending on the location.
Service Agent – Primarily responsible for the internal and external cleanliness of rental vehicles, service agents may also perform non-mechanical maintenance, move vehicles, and actively participate in maintaining and updating the online inventory. In addition, employees may need to inspect all incoming rentals for damage and perform various audits. Prospective service agents generally only need to meet minimum age standards, maintain schedule flexibility, and hold a high school diploma or the equivalent in order to qualify for employment. Minimum wage serves as the conventional base pay rate for new service agents, though experienced employees may earn up to $10.00 hourly.
Automotive Technician – Most car rental industry companies employ on-site service and maintenance technicians responsible for maintaining all vehicles. In order to provide the best-working automobiles possible, automotive technicians hold accountability for all repairs and preventative maintenance, perform in-fleet servicing on new cars, and recondition repairs on sales vehicles when necessary. All technicians should display initiative, rational judgment, and the ability to work flexible hours when needed. Most automotive technicians must possess current and valid Automotive Service Excellence (ASE) certifications in order to qualify for technician positions, which typically pay up to $20.00 an hour.