Restaurants with Online Applications – Job & Employment Opportunities
National chains are looking to hire motivated crew members just like you.
Top employers in this category:
Restaurant Positions and Duties:
The restaurant industry contains a wide variety of positions involved in different facets of providing customers with high-quality food, attentive and friendly service, and enjoyable atmospheres. The positions available in the industry require teamwork and the ability to move quickly while providing effective and efficient services. Of the positions, server, busser, host, cook, and bartender represent the most common opportunities available for entry-level employment. Servers bring food from kitchens to table. Bussers remove dishes and any waste from tables, as needed. Hosts greet guests and show patrons to assigned seating areas. Bartenders mix and serve alcoholic beverages for patrons, while cooks, usually under the direction of a chef, prepare the cuisine. Restaurants regularly hire on new management to oversee operations, as well. Managers hire new employees, train workers, direct staff, and generally ensure great experiences for customers.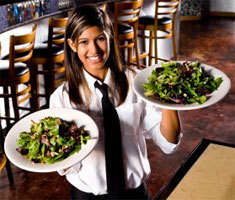 Restaurants Now Hiring!
How to Get a Restaurant Job:
Previous food service experience often plays a key role in landing work in a restaurant. However, entry-level stations normally prove accessible to new workers. Customer service skills, safe food handling procedures, and positive attitudes typically benefit employment hopefuls, who should stand 16 years of age or older to apply for most restaurant jobs. Educational requirements remain minimal, though culinary or technical training may aid chef and bartender applicants. The ability to multitask and juggle numerous responsibilities at once remains commonplace during any given shift. Applicants should demonstrate the ability to maintain multiple, ongoing projects at once through examples from past jobs or volunteer opportunities.
Pay and Benefits:
Restaurant usually provide workers with excellent means of making living wages. Tips factor well into overall earnings for most restaurant employees, with servers and bartenders receiving ample opportunity to generate extra income through dedicated service. According to the U.S. Bureau of Labor Statistics (BLS), median annual pay remains around $18,400 for bussers, counter attendants, waiters, and waitresses, while Bartenders should expect to make around $18,900, including large portions of annual wages derived from tips. Chefs make $39,800 on average, and restaurant managers earn around $46,400. Depending on the establishment, annual salary options may rise to more than $60,000 for managers, with head sous chefs of fine dining locations often earning just as much in annual pay.
The most common work benefit provided to restaurant employees includes free or discounted foods. Restrictions may limit meal discounts to availability solely while on the clock at some franchises. The potential for earning financial planning assistance like 401(k) retirement plans or 529 college savings plans, medical insurance, life insurance, disability and accidental death coverage, and paid time off also remains commonplace; however, most restaurant limit employment benefits to workers in managerial positions or top-ranking chef jobs.
Restaurant Industry Job Outlook:
Approximately 10 million people currently work in the substantial restaurant industry. Demand for more restaurant workers increases as the population grows. Market trends usually show growth in the restaurant industry during times of economic stability or recovery, as people eat out more on expendable income. With the recent economic upswing reported and projected by market analysts, the BLS projects a job growth rate as high as 12% for certain restaurant occupations. Employment hunters, especially inexperienced workers and part-time job seekers, should encounter little trouble in finding vacancies in the industry over the next decade.
If you want to know what kind of pay to expect for a specific restaurant job, check out our Restaurant Salaries & Pay information page.
National chains like Applebees, TGI Fridays, and Outback Steakhouse are looking to hire motivated crew members just like you. Job applications are available at the click of a button. Check out the links below and apply online to begin your career in the restaurant industry.
Restaurant Job Descriptions: Typical restaurant job positions include: Busser, Dishwasher, Host/Hostess, and Server.
---
Other Restaurant Job Descriptions
cook | restaurant bartender | assistant manager | kitchen manager | manager
Responsibilities Typical cook responsibilities include preparing food to order, cleaning work stations, ensuring the use of quality ingredients, and processing ticket orders. Specific job duties involve operating an oven, grill, or microwave, cutting meat, washing vegetables, and arranging food once prepared. Training for cook jobs generally combines visual instruction and hands-on orientation. During training, cooks learn menu items, safety procedures, and health standards. Orientation may last anywhere between a few days and a couple weeks, depending on location and employer.
Qualifications
What Are the Requirements for a Restaurant Cook Job? Most restaurants prefer applicants to hold at least a high school diploma to receive employment consideration for a cooking position. Many establishments also require applicants to have some experience before beginning the hiring process. Valid experience consists of work history as a restaurant cook or specialized training at a vocational school. Cooks must work quickly and efficiently and pay extreme attention to health standards. Cook jobs require working knowledge of stove tops, ranges, ovens, and grills as well as knives, small appliances, and other tools use to prepare food. Typical minimum age requirements for cooks generally fall around 18 years old, although some restaurants may hire applicants 16 or 17 years of age to fill entry-level line cook positions.
Salary & Compensation How Much Can a Restaurant Cook Make? Average hourly pay for cooks falls around $11.00 per hour or $23,000 a year. Cooks generally start out earning wages of $8.00 to $10.00 per hour and earn more with experience gained. More experienced cooks may make in excess of $34,000 per year. California, Florida, New York, Oregon, and Texas represent some of the best places to find culinary jobs in the United States. The most profitable metropolitan areas for cooking positions include Myrtle Beach, SC, Panama City, FL, and Naples, FL.
---
Job Duties What Are the Responsibilities of a Restaurant Bartender? Bartenders perform a multitude of tasks. Typical bartender job duties include checking customer identification, taking beverage orders, creating mixed drinks, serving drinks, and collecting money for drinks served. In addition, bartenders must maintain a clean bar area by washing and sanitizing glassware and frequently wiping down the counter. In some cases, bartenders may need to limit liabilities by cutting off excessive drinkers, ordering taxies for the heavily intoxicated, and removing loud or disruptive patrons. Depending on the employer, bartenders may need to order and restock liquor, beer, and wine supplies. Head bartenders supervise the bar staff. Larger restaurants employ bar backs or bar assistants, as well. The job duties of bar backs and bar assistants include tapping kegs, restocking supplies, collecting empty glasses, wiping down the bar, and taking out the trash.
Job Qualifications What Are the Requirements for a Restaurant Bartender Job? Working in a fast-paced, stressful environment, a bartender must possess the ability to multi-task. Bartenders need to collect orders, cash customers out, and mix drinks at the same time. Consequently, a strong memory helps bartenders remember customer orders, bar terminology, and complex drink recipes. In positions involving customer interaction, bartenders should serve customers in a friendly and helpful manner. A bartender must also possess the ability to stand for an extended period of time. Because the job involves handling alcohol, each state mandates a minimum age requirement for bartenders. Depending on the state, the legal working age for a bartender ranges between 18 and 21 years old. Some employers may require a high school diploma or GED as an educational requirement. Upscale restaurants may look to hire associates with previous bartending experience or a vocational degrees in mixology.
Salary & Compensation How Much Can a Restaurant Bartender Make? The average starting hourly pay for bartenders ranges between $8.00 and $11.00, not including tips. Depending on location and employer, bartenders may earn up to $15.00 an hour before tips. The highest-paying states for bartenders include Hawaii, Massachusetts, Utah, Vermont, and Washington. Average wages among the top-paying states rests at about $13.00 an hour. Overall, the average hourly pay for a bartender stands at about $10.00 an hour. Bar backs and bar assistants typically earn about $8.00 an hour and approximately 10% to 20% from the tip pool.
---
Job Duties & Responsibilities An assistant manager performs a wide range of job duties to help support the general restaurant manager. Job duties consist of managing employees, regulating business operations, and resolving customer issues. When managing employees, assistant managers delegate work assignments, hire and train new associates, create work schedules, monitor and evaluate employee performances, and motivate staff members. The business and administrative functions an assistant manager must perform include monitoring inventory, ordering supplies, managing deliveries, meeting health and safety regulations, and organizing promotions. To guarantee customer satisfaction, assistant managers handle complaints and ensure customers enjoy a quality dining experience. Paid training provides an introduction to managerial job duties and company practices at most restaurants.
Job Qualifications In order to maintain smooth operations, assistant managers must possess the ability to lead employees. Additionally, assistant managers must multi-task and demonstrate strong problem-solving abilities. During busy hours, stressful situations may arise, and assistant managers must remain calm and polite to diffuse incidents. Friendliness and politeness serve as essential traits when creating an excellent dining experience. Additional job qualifications include the ability to follow company procedures, an aptitude for computers and technology, and strong written and verbal communication skills. Most employers set the minimum age requirement for assistant managers at 18 years old. Educational requirements vary for each restaurant. Some restaurants require a high school diploma or GED. Upscale restaurants may require a 2-year or 4-year degree in hospitality or foodservice management. Employers usually also require prior restaurant or management experience.
Salary & Compensation How Much Can a Restaurant Assistant Manager Make? The average starting pay for restaurant assistant managers ranges between about $18.00 and $20.00 an hour. Wages vary greatly depending on employer, location, and work experience. Experienced restaurant assistant managers may make up to $26.00 an hour. Top-paying states for restaurant assistant managers include Nevada, Delaware, Washington, New Jersey, and Massachusetts. An assistant manager working at a restaurant in a top-paying state earns approximately $30.00 an hour. Overall, assistant restaurant managers earn an average salary of $45,000 per year, or $22.00 an hour.
---
Job Duties What Are the Responsibilities of a Restaurant Kitchen Manager? Job responsibilities for restaurant kitchen managers consist of hiring and training new employees, supervising kitchen operations, and scheduling kitchen staff members. Daily responsibilities may include instructing workers, reviewing menu items, taking inventory, placing food orders, and scheduling maintenance. Kitchen managers also carry out daily quality assurance inspections. Training for kitchen manager jobs generally involves visual instruction as well as hands-on orientation. Typical orientation ranges anywhere from a few days to a couple weeks, depending on location and employer.
Job Qualifications What Are the Requirements for a Restaurant Kitchen Manager Job? Most restaurants look to hire individuals 18 and over for kitchen manager positions. Previous experience in the restaurant industry may prove beneficial during the hiring process, although some employers train managers on the job. Many restaurants require formal training at a vocational school or college in addition to a high school diploma or equivalent. Ideal candidates possess strong leadership, organizational, and motivational skills. Additional requirements may include a working knowledge of computers and the ability to work under pressure.
Salary & Compensation How Much Can a Restaurant Kitchen Manager Make? Average hourly pay for kitchen manager jobs rests around $14. Restaurant kitchen managers earn average starting salaries between $20,000 and $22,000 per year, or roughly $10.00 to $11.00 an hour. Most kitchen managers average around $30,000 per year. More experienced kitchen managers may make in excess of $80,000 per year, depending on restaurant location and employer. The metropolitan areas with the highest average salary options for kitchen managers include Trenton, NJ, Norwich, CT, Boston, MA, and Boulder, CO.
---
Job Duties What Are the Responsibilities of a Restaurant Manager? At the most basic level, a restaurant general manager takes responsibility for ensuring the establishment functions smoothly. A restaurant manager monitors and maintains customer satisfaction, employee compliance, everyday operations, and overall quality. Managers must observe restaurant patrons and provide service accordingly. General manager duties also include monitoring and meeting financial objectives. If the restaurant exists as part of a chain, then the general manager may have to implement various marketing strategies and other policies.
Qualifications What Are the Requirements for a Restaurant Manager Job? An effective general manager must balance several aspects of operating a successful restaurant. First, managers must exhibit good leadership skills and act as an example for fellow employees. Though a manager need not be an expert in every department, a good restaurant manager should know many of the duties performed by other employees. Most importantly, general managers must have great customer service skills, since the success of the establishment depends on it. Beyond these traits, most restaurant require that job candidates be at least 18 years of age and possess a high school diploma and some experience in the foodservice industry.
Salary & Compensation How Much Can a Restaurant Manager Make? General managers in the restaurant industry make anywhere from $20 an hour to well over $30 per hour. The most profitable states for restaurant managers include California, Texas, Florida, New York, and Illinois. Restaurant manager earnings depend greatly on the employer, location, and experience level of the employee. Overall, the average restaurant general manager earns a salary of $50,000 per year, or about $25.00 an hour.
---
Additional Restaurant Job Descriptions