Print Out Safeway Application
Download a printable Safeway employment form.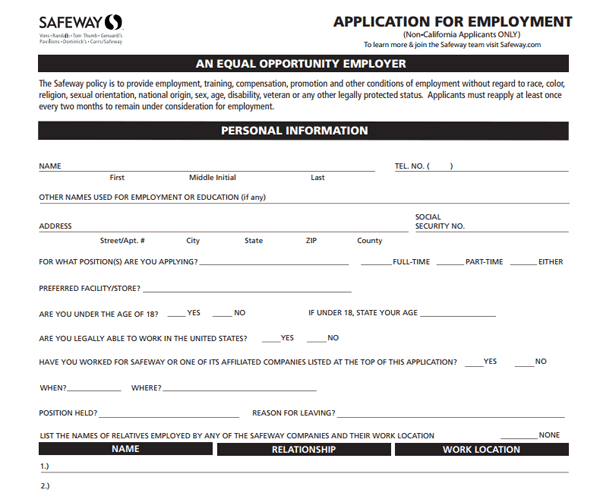 What Should I Do With This Form?
Follow the instructions below to complete your application. Then, hand deliver it to a local Safeway. You can also learn about applying online right here. Or, start searching for jobs near you.
Why Apply at Safeway?
Safeway is a supermarket chain with over a thousand locations in states across the country. The company offers part-time and full-time hours for many entry-level positions. Hopefuls can apply as cashiers, stockers, or department clerks.
Download the PDF from the image above to print a Safeway application now. Apply in person to ask questions and develop relationships with hiring managers. Dress nicely and act professionally when turning in forms. Some receive interviews on the spot, so be prepared.
Completing the Safeway Application
The application for jobs at Safeway is four pages and seven sections long. Questions relate to previous career experience, education, and general facts. Be sure to respond to everything accurately before submitting.
Personal Information
Candidates begin by printing a name, address, phone, and social security number. Specify full-time or part-time work, plus a desired position and store. Next, job hopefuls note their legal work status and age.
Applicants must also answer if they have ever worked for Safeway. If so, indicate the position, location, and reason for leaving. The form asks if any relatives have been employed by the brand too.
The company needs to know about any criminal history as well, including relevant details. Info should be thorough and accurate. Those who apply in Hawaii will not disclose this until receiving a hiring offer.
Availability
Using this chart, candidates show the times they are available to work. Fill in these blanks carefully as an open schedule might provide a leg up in the hiring process. In addition, the applicant writes in a preferred start date and hours per week.
Education
While most Safeway jobs do not need a college degree, noting schooling is important. All potential employees can list education history beginning with high school. Fill in degrees earned and years attended, if necessary.
Military Service
This section is for prospective workers who have a military background. Those who do will note the dates and any skills learned while in training. Safeway does not discriminate against veterans. Anyone without military experience skips this part.
References and Job History
Here, candidates can prove they are fit for the job. List all previous work, even if it does not involve grocery stores. When choosing references, include professionals who can speak to customer service abilities.
Application Signature
At this point, job seekers must sign and date the application. Doing so confirms the data is true and up-to-date. After signing, the paperwork is official and remains active for two months.
Application Information
On the next page, applicants record their race and gender. They must include a day for applying, and mark how they heard about the opening. The bottom is for hiring managers only and the candidate should not complete it.
Consumer Reports
The last part of the application regards consumer reports. The company uses these when considering someone for employment or conducting reviews. Completing this portion indicates applicants are aware of their rights.
Finishing the Safeway Application
Look over the document to make sure all responses are accurate. Once done, take the finished application form to a Safeway store that is hiring. This could be the first step toward a brand new career.