Print Out Sally Beauty Supply Application
Download a printable Sally Beauty Supply employment form.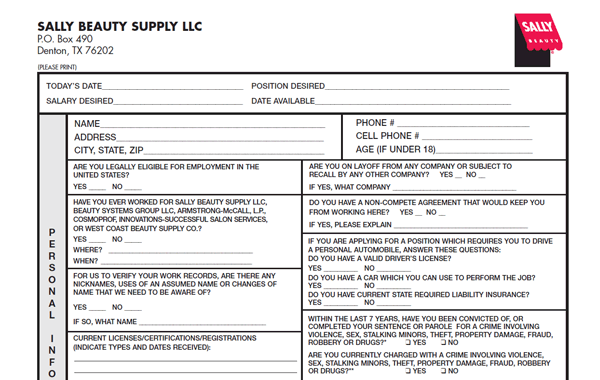 Benefits of Printing out the Sally Beauty Supply Application
Applicants looking for retail jobs regularly find viable employment with Sally Beauty Supply. The retailer uses both online and paper means to gather information about candidates, with each option offering unique advantages and disadvantages. Advantages of paper hiring forms include opportunities to gather materials needed to complete the various data fields featured in the documents and the ability to meet with management directly when handing over the applications. Paper applications also carry no formal timetables, which allows workers to ensure any information provided stands as accurate and truthful as possible to the best of known abilities.
The face-to-face interactions necessary to turn in the forms facilitate excellent settings to demonstrate abilities related to the beauty supply industry, such as knowledge of haircare products, trending styles, and general retail sales skills. . Dressing in fashionable clothing and showcasing presentable appearances and attitudes may lead to immediate consideration from hiring managers or even same-day job offers. Workers choosing paper methods also enjoy the ability to reprint the documents if needed, especially in the event of errors made on the forms. Hiring personnel asked to reissue documents may look down on contenders as unorganized or impatient.
How to Fill out the Sally Beauty Supply PDF Application
Sally Beauty Supply printable PDF forms include four basic sections. Individuals must enter in personal information, education histories, work histories, and references to bring the form to close. Each field offers blank spaces for workers to enter information. Some sections may contain checkboxes signifying Yes or No responses or individual selections from lists of possible choices. Use blue or black ink on the documents to ensure legibility and write clearly to avoid confusion.
"Personal Information"
Lines appear at the head of the first page for the date, the position desired, salary expectations, and first available start date. Moving forward, candidates enter in basic contact information, such as names, addresses, phone numbers, and age if under 18. Workers must then indicate legal ability to hold employment in the United States, current statuses as lay-off employees, previous employment with Sally Beauty Supply, participation in existing non-compete agreements with other companies, possession of valid driving permits, aliases (if applicable), and licenses, registrations, or certifications currently on file with state, municipal, or other governing bodies.
The Personal Information section goes on to inquire about applicant criminal history. Workers must provide information for convictions occurring within the last seven years. The form specifically mentions crimes involving acts of violence, sex, fraud, theft, stalking, property damage, and drug use. Provide the dates and natures of the offenses in the appropriate lines. The section concludes with a chart reserved for multilingual candidates to list languages spoken (outside of English) and the extent of comprehension. A brief line asks for workers with friends or relatives employed by the retail chain to provide the names of the individuals and corresponding store locations.
"Education"
Four sets of checkboxes begin the Education section of the printable PDF. The checkboxes represent various levels of education and require individuals to mark off the highest levels of education personally attained. Workers may skip marking the checkboxes completely if currently carrying degrees and mark the box to the far right of the section accordingly and list degree types on the line. Below the row of checkboxes sits a graph offering spaces for each day of the week where candidates enter daily availability. A short list of questions regarding aspects of beauty supply retail operations appear next to the graph and range in content from "Have you ever used a computer?" to "Have you ever waited on customers?"
"Work History"
Job hopefuls may provide information for up to five former employers in the Work History section. The detailed graphs used to collect applicant information inquire about employer names, addresses, and phone numbers, past job titles, responsibilities, former supervisor names and titles, reasons for leaving, and starting and ending salary options. Candidates must also provide the dates employed and permission to contact the past employers by checking the appropriate boxes.
"References"
References testify on behalf of candidates and provide hiring managers broader pictures of personalities and professional abilities. Workers seeking employment with the nationwide beauty retailer must list three persons outside of family relations to attest to capabilities. Acceptable references include former schoolmates and/or teachers, former coworkers or supervisors, and other personal, unrelated contacts. A final line asks for an emergency contact.
"Signature"
Applicants sign off on the documents following lengthy yet detailed statements about the legality of the forms, the hiring process, and status as an employee upon hire. The legal statements provide information specific to certain U.S. states, as well. Workers should read through the waivers and agreements before signing and dating the downloadable applications, which finalizes the documents and certifies the information as truthful and accurate.