Print Out Sephora Application
Download a printable Sephora employment form.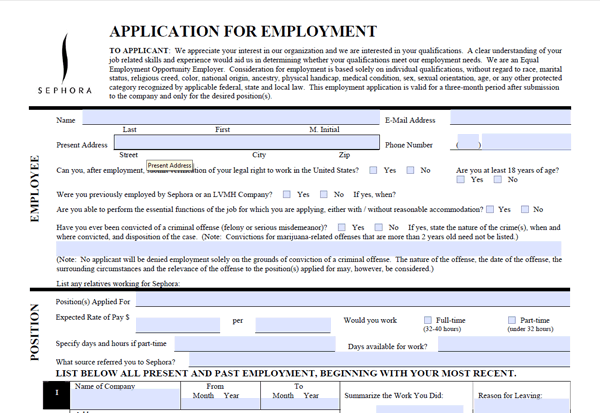 What Should I Do with This Form?
Use this guide to fill out a Sephora job application. To get started, print the PDF above. Once it is complete, visit a local store to submit the form to a manager. Additionally, learn how to apply online here or search for jobs in any area.
Why Apply at Sephora?
This beauty retailer has many locations across the country. Thanks to a joint venture with JCPenney, part-time and full-time jobs with the brand exist in those stores as well. Anyone who enjoys helping customers would be successful at Sephora.
Filling Out the Sephora Application
Candidates should use dark ink to do the application. Make sure that all writing is neat, or type answers in before printing the document. Fully respond to each question to ensure accuracy.
Employee and Position
Completing Sephora applications begins with personal data. The job seeker must clearly write a name, address, and other contact info. The form asks several questions regarding age, past careers at the company, and prior criminal charges.
Applicants also fill in a desired position and pay rate. Check a box for full-time or part-time work. Then, use the remaining spaces to detail days and hours available. The last line lets hopefuls tell how they heard about the job.
Work Experience
Here, explain all previous employment. The application has room for four jobs, plus duration, title, duties, and reason for leaving. This information allows Sephora to call former employers.
Skills, Education, and References
The Sephora job application has a series of boxes and blanks to mention additional skills. Hiring managers often use this to choose the best employee. Topics include:
Typing speed
Computer hardware and software knowledge
Proficiency in non-English languages
Any other relevant abilities
Use the next portion to detail schooling, like enrollment status and diplomas achieved. On another line, workers describe any honors or activities that could help with the job. The subsequent box provides space to list four references.
Signing the Sephora Application
At this point, the job application is almost finished. Review it to be sure the answers are correct, then sign and date the bottom. The company's consumer report policy follows. Provide contact data again on the next page.
Final Steps
Read the extra pages carefully. This section concerns credit laws which may require confirmation from those living in specific states. Finally, the application form is ready to take to Sephora.