Print Out Shake Shack Application
Download a printable Shake Shack employment form.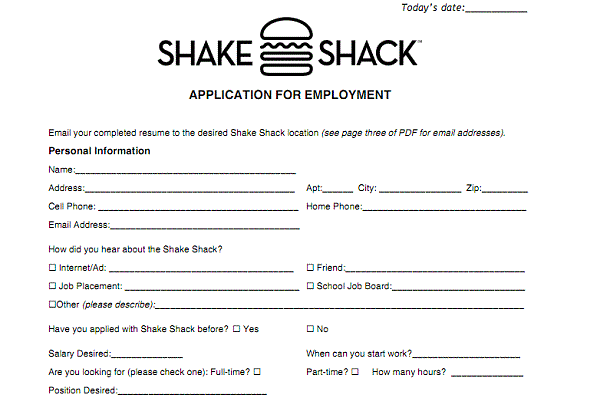 Benefits of Printing out the Shake Shack Application
The Shake Shack is famous for their Angus burgers, hot dogs, frozen custard, and of course, milkshakes. The company is looking for enthusiastic people to fulfill their mission of serving only the best sourced food and beverages to guests. By applying in person, applicants can have face-to-face contact with managers and display friendliness and energy, which are valued qualities of potential employees.
How to Fill out the Shake Shack PDF Application
Shake Shack's printable applications take approximately 20 minutes to fill out. Use a blue or black ink pen and print clearly. Be sure to fill out all sections of the application forms.
Personal Information
Job seekers must fill in contact information as well as how candidates heard about the company. Next, potential employees list desired salaries, start dates, and fill in a chart of work availability.
Work Experience
First, candidates are asked if they have ever been employed with Shake Shack. Next, job seekers provide the names of up to three previous employers, starting with the most recent. Include positions, dates of employment, and reasons for leaving.
Education
In this section, job seekers must state where they attended high school, college, and culinary school. Relevant data includes the locations of schools attended and whether or not degrees were earned.
References
The employer requests the contact numbers of two previous employers. Do not use family members or friends as references.
Certification
Finally, job seekers must sign and date the applications verifying the information provided is accurate. The third page contains locations and contact info for Shake Shacks. It is recommended to use the contact emails to send resumes and follow up on statuses of applications.