Print Out Smoothie King Application
Download a printable Smoothie King employment form.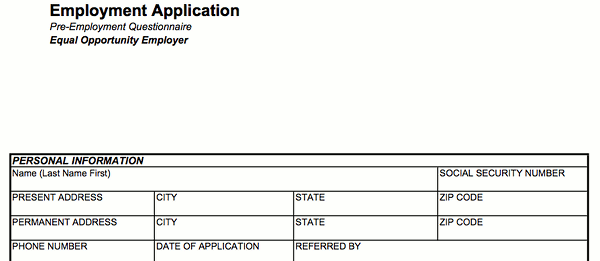 Benefits of Printing out the Smoothie King Application
A physical, downloadable version of the Smoothie King application provides job seekers instant access to entry-level and supervisory employment opportunities. The printable form also offers unique prospects for interacting with potential coworkers and prospective managers onsite at desired locations. After filling in the required portions of the PDF hiring form, each individual must submit the documents to managers directly. The occasion provides sound facetime with hiring personnel and may open windows to discuss aspects of the job in question, expected pay, and avenues for career growth.
Printing out hiring forms as opposed to filling in the documents on location also eliminates any embarrassment of asking for new applications in the event of committing errors. Workers may simply reprint the PDF and start over, or whiteout any mistakes instead of making unsightly cross-outs or erasures. The printable Smoothie King application allows candidates to gather hiring materials ahead of time as well, which may prevent mistakes made when filling in the required information.
How to Fill out the Smoothie King PDF Application
The two-page Smoothie King PDF begins with general contact, employment, and academic information and then moves on to pose several questions regarding job skills, personal work ethics, and overall attitudes toward the position in question. Applicants must complete both sections to receive full review from management. Use blue or black ink and avoid smudging the document or creating other blemishes. The form may take anywhere from 30 to 45 minutes to complete.
"Personal Information"
Candidates must first list contact details in the spaces provided. Required information includes name, address (present and/or permanent), phone number, date of application, and Social Security number. Workers should note the form asks for last name first.
"Employment Desired"
The chart-like first page continues with data fields for position desired, available start dates, and preferred wages. Job seekers need to circle Yes or No as to whether currently employed and provide consent for Smoothie King to contact current employers, if applicable. A small box asks for the number of hours (min and max) sought per week. Three final questions delve into past experience working for the smoothie chain and, if so, where and when.
"Name and Location of School"
Continuing on, employment hopefuls fill in boxes for names and addresses of academic institutions attended. Hiring forms require details for high school, college, and vocational careers. Place the years attended and indicate graduation on the form for each school, as well. Fields of study for the institutions listed must also appear in the appropriate blanks.
"General"
A single line sits under the General section for candidates to list special skills or trade abilities learned in school, at home, or under other professional circumstances. In the same section, job hopefuls need to mark Yes or No for any previous criminal convictions or military service. If an applicant marks Yes for both, she must explain the legal infractions and then provide the military branch formerly enlisted in addition to rank.
"Former Employers"
Smoothie King applicants encounter three block spaces to list former employers. The nationwide chain wants to know the dates employed, company names, final pay rates, positions held, and reasons for leaving for all three jobs beginning with the most recent and working backwards. Individuals with longer employment histories may attach additional sheets of paper to the employment documents to go further into detail about work experience.
"References"
Applicants must also provide information for three unrelated persons able to serve as business references. Aside from offering the names of referents, candidates must also list the phone number, place of business, and years known for each person. The form stipulates references submitted must contain at least one former employer, coworker, or other professional contact.
"Preliminary Questions"
The first questions the Smoothie King PDF poses to job seekers include inquiries into availability over the next year, five unique character traits applicants possess over current employees or other candidates, and a prompt asking about upselling abilities. Questioning then changes tone and asks prospective associates about qualities desired in coworkers. Individuals need to list five qualities desired in others. A very straightforward question in: "Why do you want to work for Smoothie King?" follows.
Rounding out the questionnaire, applicants respond to a prompt about natural supplements and the differences made on the lives of individuals. Other final inquiries include prodding into long-term goals and two math questions testing basic abilities. Below the final questions sit two lines providing space for a signature and the date. Candidates should read over the information provided to certify the data remains as accurate and truthful as possible. Signing and dating the forms finalizes the documents.