Print Out Stripes Application
Download a printable Stripes employment form.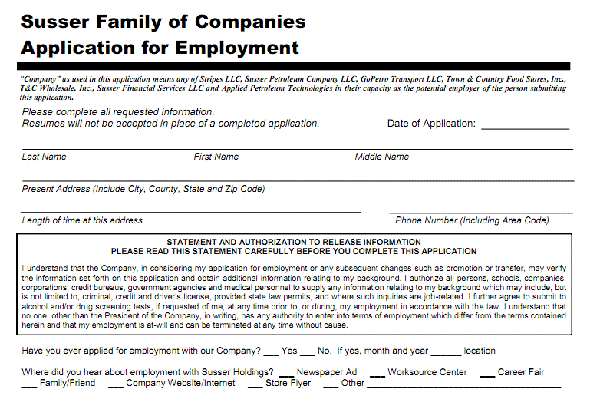 Benefits of Printing out the Stripes Application
Stripes operates more than 700 convenience stores in Texas, New Mexico, and Oklahoma. Printing out PDF application forms can help candidates meet hiring managers directly. Establishing face-to-face contact may help job seekers be more recognizable during the hiring process.
How to Fill out the Stripes PDF Application
Job seekers using printable application forms should use blue or black ink pens and write legibly. It is important to read all disclosures and fill in information accurately.
General Information
Applicants must list current contact information for themselves. If candidates have previously worked with the company, they must provide details of the positions in this section. Next job seekers must give the names of any family members that currently work for the company.
Questionnaire
Here candidates respond to questions about desired store locations and ability to travel. Next, applicants are asked if they are aware of job descriptions for open positions and verify that they can meet the physical demands as listed. Job hopefuls must also provide availability to work.
Education
Applicants record the names and locations of schools attended. Job seekers must fill in the chart with high school, college, and technical trade information, as well as major areas of study.
Business Experience
Potential employees must list up to four previous employers. Include their addresses and supervisor contacts. Give dates of employment, salaries, and reasons for leaving, as well.
Certification/Arbitration/Drug Screening
Job seekers then sign and date applications stating that information provided throughout is true. Potential employees must also sign agreements to arbitrate as well as submit to drug screenings.