Print Out Subway Application
Download a printable Subway employment form.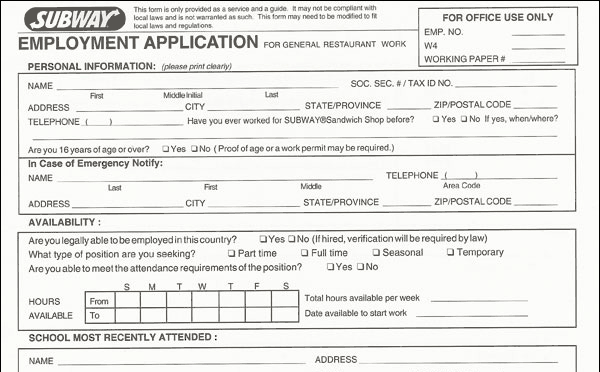 Benefits of Printing out the Subway Application
What Can I Do With This Form?
Manually printing out and filling in the Subway application as a PDF as opposed to completing the hiring document online provides candidates with more personal approaches to gaining employment. Workers simply download application forms and enter in data longhand with blue or black pens and submit the forms to management at desired locations. Turning in the applications in person provides ample time to talk directly with managers about positions available and ask questions about subsequent steps in the hiring process. Prospective associates may receive immediate consideration for work and potentially interview on the spot. Management regularly extends job offers to individuals taking the initiative to turn forms in personally.
How to Fill out the Subway PDF Application
The brief hiring form consists of two pages. Applicants must complete required sections in order to receive full review from hiring personnel. Six sections in total comprise the application, including a basic assessment of math skills and work ethics.
"Personal Information"
To begin the Subway PDF application, applicants must provide names, addresses, and phone numbers as well as indicate age over 16 and previous employment with the sandwich shop. Lines also appear in the personal information section for workers to list emergency contacts.
"Availability"
Following personal information, job seekers need to divulge details regarding availability. The section opens with a question about legal right to work in the U.S. and continues with inquiries into the ability to meet the general scheduling expectations of positions desired and employment status desired, i.e. full-time, part-time, seasonal, or temporary. A small table located below the questions offers spaces for applicants to enter in availability for each day of the week. Two lines ask for total hours desired per week and the first available date candidates may begin if hired.
"School Most Recently Attended"
The straightforward sections asks specific information about the school applicants most recently attended. Information required includes the school name, address, phone number, name of teacher or counselor, last grade completed, GPA, commencement (if applicable), current enrollment (if applicable), and sports or activities involved in.
"Most Recent Employment"
Subway requests applicants to list two recent employers on the downloadable PDF. Workers should only provide details for the two most recent places of employment. Cite company names, addresses, telephone numbers, positions held, supervisor names, dates worked, reasons for leaving, and wages. Job hopefuls should list final rates of pay as opposed to starting salary options. The section ends with a sign off granting the sandwich chain permission to contact the previous employers listed. Candidates may opt out of providing permission; however, the form requires individuals denying the restaurant access to past supervisors to list reasons why.
"References"
The hiring forms continue with spaces provided for two references. Applicants must not list family members or friends. Appropriate references include professional contacts, former supervisors, or previous coworkers. Essential information requested for references includes the name, address, telephone number, and years known for each individual.
"Employment Test"
Subway printable applications contain brief employment tests broken down into two separate sections screening for math and behavioral traits. Part I includes basic computations employees regularly encounter making change for patrons. The second part of the application poses hypothetical situations applicants must create constructive arguments for. Examples include what individuals should do when dealing with irate customers or what to do in the event of a covering coworker not showing up for a shift on time. The final section of the employment test asks candidates to check Yes or No regarding abilities to maintain sanitary work environments.
"Waivers and Disclaimers"
Concluding the hiring form, prospective Subway associates must sign off on legal disclaimers and waivers regarding the dissemination of candidate information and the hiring process, in general. Workers should carefully read through the statements in order to fully understand rights as an applicant. Satisfied, job hopefuls then sign and date the bottom line.