Print Out Sun Tan City Application
Download a printable Sun Tan City employment form.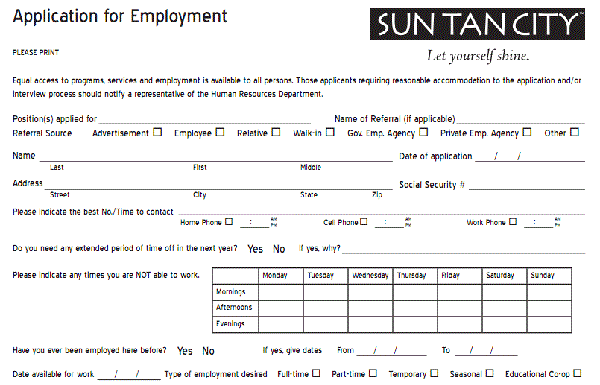 Benefits of Printing out Sun Tan City's PDF Application
Sun Tan City offers printable PDF job applications to use when applying to the tanning salon. Candidates should consider turning in their applications in person. When individuals apply in stores, they are able to give their forms directly to managers. Job seekers can display their professional attitudes to hiring staffs, ask questions, and sometimes schedule interviews immediately.
How to Fill out the Sun Tan City Printable Application
The application for Sun Tan City should be filled out in neat handwriting. Use either blue or black ink if possible. Usually, the two-page forms can take less than half an hour to complete. Applications typically require general contact and past employment details, it is helpful to have this information prepared before sitting down to start.
Personal Information
On the first page, candidates should put their contact information in designated spots. Job seekers should also note the positions they are applying for and any referrals. Finally, list the best times managers can contact applicants.
Employment Information
First, provide any periods of time candidates cannot work, whether it be for vacations, medical leaves, or other valid reasons. Next, use the given chart to fill in times applicants cannot work. To conclude this portion, answer the series of questions regarding work eligibility and preferred start times.
Educational Background & Skills
To complete the educational division of the applications, state the three most recent schools attended. Also include the number of years and degrees achieved, grade point averages, and studies. Then on the given lines, summarize special skills, awards, or training that will help candidates stand out in the hiring process.
Work History & References
These sections allow applicants to list past or current work and volunteer experiences. Make sure to answer all questions, and place jobs in order of most recent to least. There is also a comment area for candidates to state reasons for gaps in employment. Lastly, references should be identified. Provide names and phone numbers for three professional references that aren't relatives or previous managers.
Signature
To conclude, read the company disclaimer and upon agreement, sign and date forms.