Print Out TGI Friday's Application
Download a printable TGI Friday's employment form.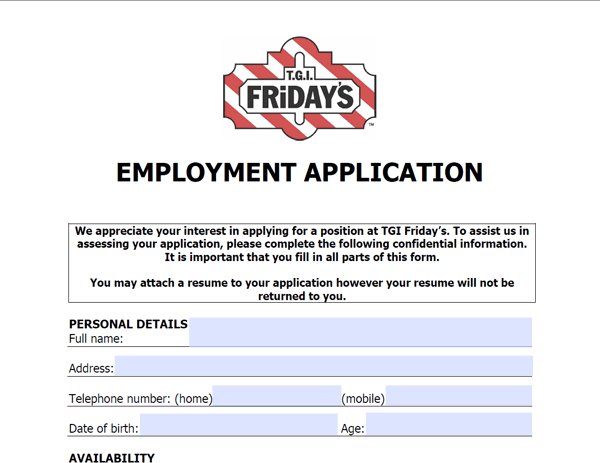 What Should I Do With This Form?
Those looking for entry-level work at TGI Friday's can begin by downloading and printing the above PDF. This page contains a step-by-step guide to completing the job application. Turn in the final form to a hiring location. You may also read about working for the company or find openings nearby.
Why Work for TGI Friday's?
Workers who have people skills thrive in TGI Friday's jobs. The restaurant offers good pay rates as well as employment benefits. Submitting the application could lead to a lasting career.
Applying at TGI Friday's
Use dark ink to complete all prompts. Make sure to fill in each part carefully. In addition to answering the questions on the application form, job seekers may attach resumes.
Filling Out TGI Friday's Applications
Identification
The first section is for general info. Job hopefuls write their name, address, phone number, age, and date of birth. TGI Friday's uses this to get in touch for an interview.
Availability
Use the chart to show times available to work daily. Keep in mind that TGI Friday's jobs often require early mornings or late nights. Candidates then choose maximum hours per week, desired location, and start date.
Education
Here, prospective employees describe current and past education. In each area, state the school, classes, qualifications, and years attended. Potential hires will also mention if they are currently students.
Skills/Courses
Specialized talents and training help a candidate stand out. These include experiences related to cooking, serving, or bartending. The TGI Friday's application asks for explanations of all listed items.
Previous Employment
Record all prior jobs in this portion. Give details like:
Name of employer and supervisor
Relevant phone number
Company address
Position
Start and end dates
Job duties
Reason for leaving
Finally, note any hobbies, sports, or interests.
Extra Information
Job seekers indicate a preference for working in the kitchen, bar, or dining room. Next, they must provide two references. For these, applicants should choose people who can speak to their performance as employees. Then, list injuries which might affect the ability to work.
When Finished
After concluding the application, review all answers for accuracy. Once confident, sign and date the bottom. Visit any TGI Friday's to hand in the form to a hiring manager.