Local Trucking Jobs, Truck Driver Employment Applications Online
Many truck driving jobs are available to eager employees with nothing but a clean driving record.
Trucking Industry
The United States Bureau of Labor Statistics projects an industry growth rate of 11% for the trucking industry over the next ten years, which coincides with the increased production of goods in an expanding economy. The natural gas and oil industries currently show high prospects for workers in search of employment as truckers in addition to retail, food service, construction, and general agriculture. Over 1.7 million truckers drive in the United States as of August 2014.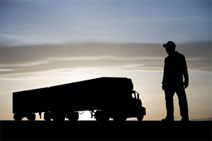 Truck driver recruiting
Job Duties
Work duties for truckers include driving various distances to haul cargo to destinations, reporting road construction, traffic, and accidents to dispatchers, and keeping trucks and trailers clean and maintained. Distances covered may prove interstate or within the same city limits or intrastate or international. Loads taken by truckers and the distances covered vary by shipment, in most cases, especially in the shipment of foods. Law compels truck drivers to take rest breaks for set amounts of time, and employees must obey all trucking and traffic regulations as outlined by the appropriate authorities and governing bodies. The vast majority of truckers work full-time.
Working for a Trucking Company
Truck driving courses usually comprise part of mandatory requirements for work. All drivers must obtain a commercial driver's license, or CDL, which typically entails passing both a written and driving exam. Most employers expect job hopefuls to hold high school diplomas or equivalents, as well. Some truck drivers load and unload shipments in addition to driving responsibilities. As such, physical strength and stamina benefits applicants. The ability to focus on driving and observing traffic regulations and the capability to stay away from home for extended periods of time remain essential qualities for truck driving job hopefuls.
Salary and Benefits
The median pay for heavy and tractor-trailer truck drivers stands at $38,200 annually. Most freight companies offer medical care, paid time off, and 401(k) retirement plans to employees. Generally, truckers receive higher earnings in pay and employment benefits after reaching long-standing tenure with the same company.
Common Trucking Job Descriptions
Truck Driver – Perhaps the most common position in the trucking industry, and at times the most financially rewarding, most truck drivers may earn up to $60,000 a year in salary options. With a variety of options in terms of responsibilities and duties, truck drivers typically must obtain specialized licenses in order to drive certain rigs, commonly called a CDL or commercial driver's license. Truck drivers may drive long haul, which typically involves driving across state boundaries and staying on the road for extended time frames. Local driving exists as well, and characteristically means driving between locations within the same state boundaries. Drivers must haul cargo to and from destinations, and may do so for a variety of industries, such as retail, food service, and chemical or fuel companies. Additional duties include keeping accurate mileage logs, making routine contact with dispatchers to relay progress, upholding time schedules, and basic maintenance. Hiring requirements typically fall to age limitations, clean driving records, and the passing of certain background tests and drug screenings.
Customer Service – Customer service positions with trucking companies may work in varied positions in order to ensure customer satisfaction. Typical responsibilities include helping clients track or locate a shipment, making accurate suggestions, and resolving all customer issues that may arise. Applicants interested in a career in transportation or logistics generally make outstanding candidates. A customer service representative should display exceptional interpersonal skills, outstanding organization, and the ability to multitask. In order to qualify for a customer service position in the trucking industry, most candidates should stand at least 18 years of age and hold a high school diploma or the equivalent. Some companies may require at least a year in a similar role and may even seek additional education, as well. A customer service representative may earn up to $15.00 an hour depending on the company, location, and promotion.
Warehouse Worker – Generally responsible for the loading and unloading of freight, a warehouse worker may also need to move product to and from storage as well as storing appropriate merchandise within the warehouse in designated areas. Additional duties include assembling orders correctly, matching manifestos to proper orders for loading, and utilizing various machinery in order to successfully complete the job. A warehouse worker typically must display the ability to lift, bend, and twist repeatedly and spend the majority of the workday on the feet without issue. Minimum hiring age ranges from 18 to 21 and tends to depend more on the type of equipment used on a day-to-day basis. Basic education standards usually hold true for most warehouse workers, save supervisors. Warehouse workers tend to earn starting hourly wages around $10.00 to $15.00.