Apply Now! Find Utilities Industry Jobs or Employment Applications Online
Full & Part Time Positions at Utilities Companies: Customer Service Representative, Service Technician, Administrative Assistant, Manager, & More
If you like the feeling of millions of people depending on your work, utilities companies across the U.S. need to hire entry-level workers and professional employees now. Utilities companies, such as Gulf Power, Nicor Gas, and Kansas City Power and Light, provide running water, electricity, natural gas, propane, and several other amenities to homes and business across the country. Fill out an online application form to find employment opportunities in the utilities industry today.
Utilities Industry: The slow but steady rises in population in the U.S., especially in large cities where electrical needs remain the most focused, cause optimal circumstances for expanding job growth in the industry. 550,000 plus employees currently work in the utilities industry. The United Stated Bureau of Labor Statistics projects 9% growth rate over the next 10 years for jobs involving installation of new power lines, due to the demand for electricity by expanding populations.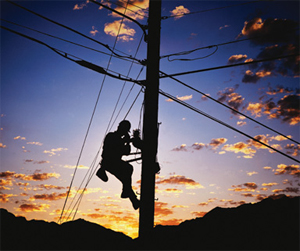 Now hiring: utilities companies!
Positions and Salaries: Line installers and repairers set up and maintain electric, gas, and water lines. Workers often labor at elevated heights or in cramped spaces and must remain standing for prolonged periods of time. Power plant operators monitor gauges and meters for fueled power-generating machinery, adjust controls, stop and start equipment, and make regulatory corrections as necessary. Power employees also bear responsibility for recording data and making corresponding annotations throughout given shifts. Line installers make about $28.00 hourly, while the median pay for plant operators holds around $33.00. The average utilities supervisor earns about $80,000 annually.
How to Get a Utilities Job: Applicants ordinarily must stand at least 18 years of age to work in the utilities industry. Mechanical, problem-solving, and troubleshooting skills benefit applicants, as most of the work involves the ability to understand and interface with energy-related technologies. A high school diploma or the equivalent proves sufficient for employment in an entry-level electrical or utility job. Many positions require extensive on-the-job training, and employees commonly must undergo an apprenticeship to gain the skills and experience needed to work higher-status jobs.
Common Utility Industry Job Descriptions
Meter Reader – Utility companies employ meter readers to document the amount of electricity, gas, steam, or water consumed by customers each month. As the job title specifies, the position involves reading meters attached to private residences as well as commercial properties and recording levels of consumption. Meter readers typically drive to designated areas or neighborhoods and then walk from building to building in order to obtain the necessary data regarding utility usage. The job therefore entails working outdoors and on foot for long periods of time. In addition to requiring good physical fitness and willingness to work in varying weather conditions, meter reader jobs demand precision and attention to detail to ensure the accuracy of charges issued to customers. Utility companies generally require employees to hold high school diplomas and typically pay meter readers an hourly wage ranging from $18.00 to $22.00.
Line Installer/Repairer – Line installers and repairers work on electrical power systems to ensure consumers receive uninterrupted flows of electricity. Job duties primarily center on the installation, maintenance, and repair of electrical power lines. Interested candidates must feel comfortable being stationed at great heights, as line installers and repairers regularly use special equipment to scale telephone poles and towers in order to connect electrical wires to buildings and other fixtures. The demanding position also involves the use of power tools and equipment. Line installers and repairers commonly work around powerful electrical currents, which demand caution and close adherence to safety standards. The job often features significant levels of travel, as employees routinely drive utility trucks to get to work sites frequently located long distances away from centralized headquarters. Job seekers interested in working as line installers and repairers typically need high school diplomas and technical instruction in electricity. Most utility companies require newly hired installers and repairers to complete apprenticeships or similar training programs, as well. Line installer and repairer jobs boast median hourly pay rates of roughly $28.00, which translates to annual salary options of over $58,000.